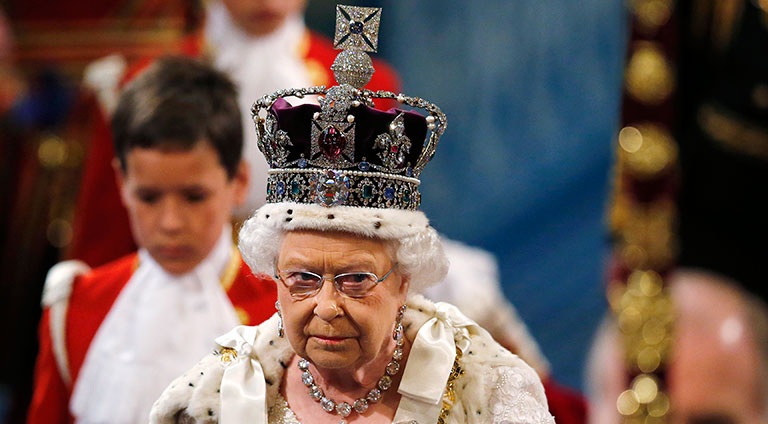 A total of 26 Bills make up the first legislative programme put forward by a majority Conservative government in 19 years.
Delivering the speech, written by the government, the Queen also set out plans for legislation to increase the number of hours of free childcare to 30 hours a week and also confirmed that a Housing Bill to extend Right-to-Buy and a Schools Bill to tackle 'coasting' schools would be brought forward.
Highlighting the plans for a 'Northern Powerhouse' of cities with powers to improve growth, the Queen said these measures would bring different parts of the country together.
'My government will work to bring about a balanced economic recovery,' she said.
'Legislation will be introduced to provide for the devolution of powers to cities with elected metro mayors, helping to build a northern powerhouse.'
The speech also indicated that plans set out by David Cameron in the election campaign to place a 'tax lock' on income tax, National Insurance and VAT so they do not rise over the parliament would go ahead. This will also set in law a plan for the income tax personal allowance – which is set to rise to £12,500 by 2020 – to increase so that no-one working 30 hours a week will pay income tax.
It was also announced that the government would expand the Troubled Families programme and would also reform welfare, including reducing the existing household benefit cap from £26,000 to £23,000 as part of a drive to save £12bn from welfare.
Measures to legislate for the recommendations of the Smith Commission to boost the powers of the Scottish Parliament will also be set out, as well as new powers for the Welsh Assembly and implementation of the Stormont House Agreement in Northern Ireland. Proposals to implement the Conservative's preferred version of English Votes for English Laws will also be published.
The monarch confirmed that a Bill to legislate for a referendum on the UK's membership of the European Union would be published. This would be based on government efforts to 'renegotiate the United Kingdom's relationship with the European Union and pursue reform of the European Union for the benefit of all member states', the Queen added.
Speaking before the address, Prime Minister David Cameron said that the plan was a 'one nation' vision for the country.
'Behind this Queen's Speech is a clear vision for what our country can be,' he said.
'A country of security and opportunity for everyone, at every stage of life. That is our ambition.'
He said that the government had a mandate from the British people to implement its manifesto pledges.
'This is the Queen's Speech for working people from a one nation government that will bring our country together. We will not waste a single moment in getting on with the task.'