By Richard Johnstone | 9 May 2012
Public sector pension changes will continue, despite trade union opposition, after legislation was promised in today's Queen's Speech.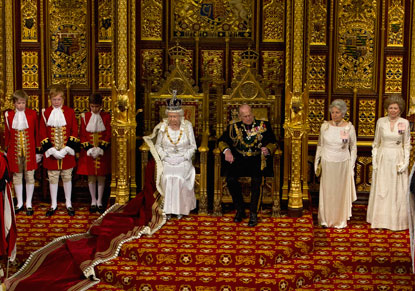 A total of 19 Bills were announced in the state opening of Parliament. As well as the pension reforms, they include draft legislation to abolish the Audit Commission and to reform the funding of adult social care.
Announcing the coalition's plans for the year ahead, the Queen said that ministers' 'first priority will be to reduce the deficit and restore economic stability'. She added that legislation would 'focus on economic growth, justice, and constitutional reform'.

The Public Service Pensions Bill will put into place the government's plans following Lord Hutton's review of public sector schemes in 2011. Unions have accused the government of pushing through controversial changes, which include moving from final salary to career average schemes and increasing the retirement age.
Members of the Public and Commercial Services Union, representing civil servants, are to strike tomorrow over the planned changes. General secretary Mark Serwotka said that the government had today 'fanned the flames' of the dispute.
He added: 'Ministers have consistently refused to negotiate with us over the key issues of forcing public servants to pay more and work longer for less in retirement, and that is why hundreds of thousands of them will be on strike on May 10.'
The union's 250,000 public sector members will be joined by public sector workers from Unite, the University and College Union and the Northern Ireland Public Service Alliance. The action could affect Jobcentres, Revenue & Customs offices and border control.
Plans to abolish the Audit Commission, first announced in August 2010, are also already well advanced, with contracts taking over the in-house audit work already signed.
The draft Local Audit Bill will set out 'measures to close the Audit Commission and establish new arrangements for the audit of local public bodies'.
Local government minister Grant Shapps confirmed that the legislation, to be published in the summer, would free local councils and other public bodies to appoint their own auditors from an open and competitive market.
'This new Audit Bill will allow us to formally close down the centralised Audit Commission and replace it with a more streamlined and competitive local system,' he said.
'Putting councils in control of their own auditing affairs will save the public purse £650m over five years and bring about the new arrangements that increase their public accountability.'
Andy Sawford, chief executive of the Local Government Information Unit, said that 'local authorities will not mourn the passing of the Audit Commission'.
However, he added: 'They will want to know that any new arrangements are light touch and can be effective in giving the public confidence and helping local authorities to improve the effectiveness and value for money of local services.'
Planned legislation to reform the funding of adult social care follows the report of the Commission on Funding of Care and Support.
Chaired by the economist Andrew Dilnot, this set out recommendations on how long-term care should be paid for,
including
a proposed £35,000 cap on personal contributions.
A white paper on plans for social care had been expected by the spring, but a Care and Support Bill will now be published in draft.
Local Government Association chair Sir Merrick Cockell said that the announcement was 'a positive step towards addressing the very real crisis we are facing in providing care to our rapidly aging population'.
He added: 'We understand that reform is not an easy problem to solve and we know that reform comes with a price tag. But we believe it's a price worth paying. Along with our partners, we will shortly be setting out the local government offer to central government on how councils can play their part and make Dilnot's proposals manageable.'
New Local Government Network director Simon Parker warned that any further delay could 'bankrupt local government', which is responsible for funding some current provision.
He said: 'The country is storing up a crisis in the social care system. This is the single biggest cost that local authorities face and demand is rising rapidly. If the government cannot find a way to contain the costs of elderly care, the short-term impact will be to suck money out of critical local services such as roads, street cleaning and community support.
'This issue cannot wait: we need a cross-party consensus as soon as possible.'
Proposals to reform the banking sector by introducing the recommendations of the Independent Commission on Banking, and legislation to 'reform the composition' of the House of Lords were also included in the speech. The government has said that it will introduce elected members into the upper house.
A full list of the Bills announced in the speech is:
Banking Reform Bill
Care and Support Bill (draft)
Children and Families Bill
Communications Data Bill (draft)
Crime and Courts Bill
Croatia Accession Bill
Defamation Bill
Electoral Registration and Administration Bill
Energy Bill
Enterprise and Regulatory Reform Bill
European Union (Approval of Treaty Amendment Decision)
Groceries Code Adjudicator Bill
House of Lords Reform Bill
Justice and Security Bill
Local Audit Bill (draft)
Pensions Bill
Public Service Pensions Bill
Small Donations Bill
Water Bill (draft)