By Richard Johnstone in Birmingham | 29 September 2014
Chancellor George Osborne has set out plans to freeze the value of most benefits for two years from April 2016 as part of an extra £25bn worth of cuts needed to balance public spending.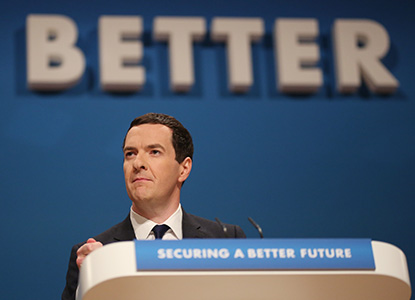 Addressing the Conservative party conference in Birmingham today, Osborne said this was the latest estimate from the Treasury of the amount of savings that would be needed to bring the public finances into surplus, which he has pledged to do by the end of the next parliament.
The two-year freeze on benefits would save £3.2bn a year, he told delegates.
'Working-age benefits in Britain will have to be frozen for two years. This is the choice Britain needs to take to protect our economic stability and to secure a better future,' Osborne said.
'The fairest way to reduce welfare bills is to make sure that benefits are not rising faster than the wages of the taxpayers who are paying for them. For we will provide a welfare system that is fair to those who need it, and fair to those who pay for it too.'
The freeze would follow the 1% cap on annual increase, which was introduced in the 2013/14 financial year for three years.
According to figures released by the Conservative Party, the measure would save around £1.6bn in 2016/17, rising to around £3.2bn in 2017/18. Benefits covered in the freeze will include Jobseekers' Allowance, tax credits and Child Benefit, as well as the Local Housing Allowance rates in Housing Benefit.
However, disability, carer and pensioner benefits would be excluded, as well as some smaller benefits such as statutory maternity pay.
The chancellor also announced a future Conservative government would reduce the household benefit cap from £26,000 to £23,000 and use the savings to fund an extension of apprenticeships.
This would form part of the Conservative aim to abolish long-term youth unemployment altogether, he said.
Under the plans, unemployed people aged under-21 would have their out-of-work benefits removed unless they agreed to take part in community projects. Housing Benefit would also be restricted for people aged under 21 by a majority Conservative government. These changes could fund three million apprenticeships over the five-year lifetime of the next parliament.
'We have a choice between paying our young people for a life on the dole, or giving them the keys to a life of opportunity,' he told delegates.
'I believe it is perfectly possible for Britain to be the most prosperous major country on earth. The most prosperous, the most dynamic, the most creative. But only if we, in our generation, provide the big answers to the big questions.'
The chancellor also announced that the Treasury would take further action in December's Autumn Statement to tackle tax avoidance by large multinational firms that divert profits offshore in order to avoid corporation tax.
'While we offer some of the lowest business taxes in the world, we expect those taxes to be paid – not avoided,' Osborne told delegates.
'Some technology companies go to extraordinary lengths to pay little or no tax here. If you abuse our tax system, you abuse the trust of the British people.'
Responding to the announcements, Grainia Long, chief executive of the Chartered Institute of Housing, said Osborne's proposals were extremely concerning as they failed to reflect the reality of the housing crisis.
'We are not building enough homes, which means the cost of housing and therefore the Housing Benefit bill is going up. Millions of people have no choice but to rely on Housing Benefit to secure a roof over their head. That includes an increasing number of people in work – the number of people in work who still have to claim Housing Benefit has more than doubled from around 445,000 to just over a million in the last five years.
'We also have concerns about the proposals to cut Housing Benefit for 18 to 21-year-olds and lower the benefit cap… it could also mean that young people would be unwilling to take risks such as moving for work because there would be no safety net for them.'