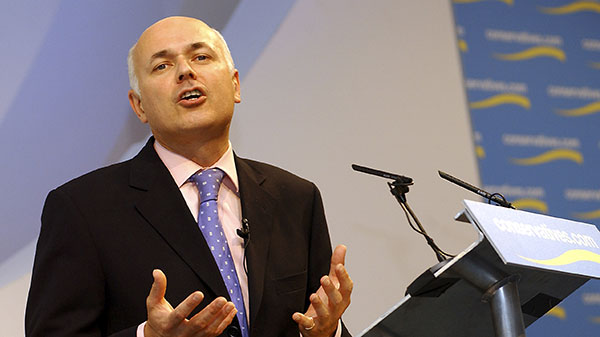 Setting out his government today following Thursday's victory for the Conservatives in the general election, Cameron also announced that Nicky Morgan will remain in place as education secretary and will take forward the government's plan to introduce 500 additional free schools across England.
Today's appointments come after the prime minster confirmed on Friday that the top four Cabinet posts – including Chancellor George Osborne – would remain unchanged.
No announcement has been made so far on the fate of Eric Pickles, who has served as local government secretary since the 2010 election.
However, Duncan Smith has been confirmed in post to implement the £12bn in savings from benefits the Conservatives pledged to deliver as part of a £30bn fiscal contraction in the next two years.
Former education secretary Michael Gove returns to run a Whitehall department, following a pre-election period as chief whip, as secretary of state for justice. His predecessor in this role, Chris Grayling, has been named leader of the House of Commons.
Among the other changes announced so far today, Cameron has replaced the former Liberal Democrat members of the coalition government. Former culture secretary Sajid Javid has been appointed business secretary, replacing Vince Cable, while Amber Rudd has been promoted from a ministerial post in the Department of Energy and Climate Change to replace Ed Davey as secretary of state.
Javid's role at the Department for Culture, Media and Sport is taken over by John Whittingdale, who chaired the select committee overseeing the department's work in the last parliament.
Other appointments include the promotion of former Treasury minister Priti Patel to minister of state for employment at the Department for Work and Pensions. Taking over the position from Esther McVey, who lost her seat at the election, Patel will also attend Cabinet.
Mayor of London Boris Johnson, who returned to the House of Commons after winning the seat of Uxbridge and South Ruislip in London, will attend the Conservative's political cabinet, where party political issues are discussed without civil servants. However, Cameron said Johnson would not be given a ministerial post as he has pledged to devote his attention to his final year as Mayor of London.