Quick wins
Urban sprawl: cities will house 70% of the world's population by 2050, the United Nations said after its third Habitat conference in Quito, Ecuador. The event, which takes place every 20 years, considers the future of urban policy and planning.
Borrowing bonanza: the UK government had borrowed £45.5bn by the middle of 2016-17, according to Office for National Statistics data. This is £10bn below the Office for Budget Responsibility forecast for the whole year.
Trusts in intensive care: according to "shadow" rankings issued by NHS Improvement, 22 provider trusts are in special measures. Another 74 require mandated support because of significant concerns with performance, care quality and leadership.
Digging infrastructure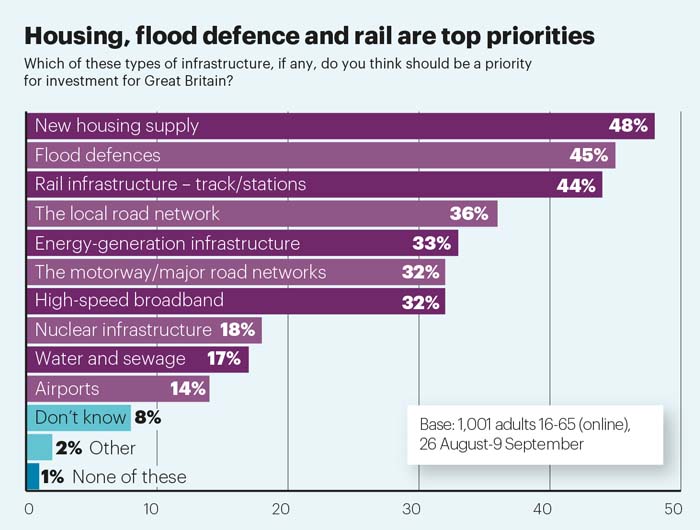 Housing, flood defences and the rail network top the public's priority list for infrastructure investment, while nuclear power, water and sewerage systems and airports were less popular options. An Ipsos Mori poll found a majority of Britons (60%) believed not enough was being done to meet national infrastructure needs, while three quarters agree infrastructure was vital to economic growth.
The survey of 1,000 adults found people were tolerant of foreign investment in British infrastructure if it meant projects were delivered more quickly.
"This makes Britons more comfortable with foreign investment than G8 countries as a whole," Ipsos Mori observed.
Housing supply and rail investment are also given higher priority by Britons in comparison with their G8 counterparts.
Surplus support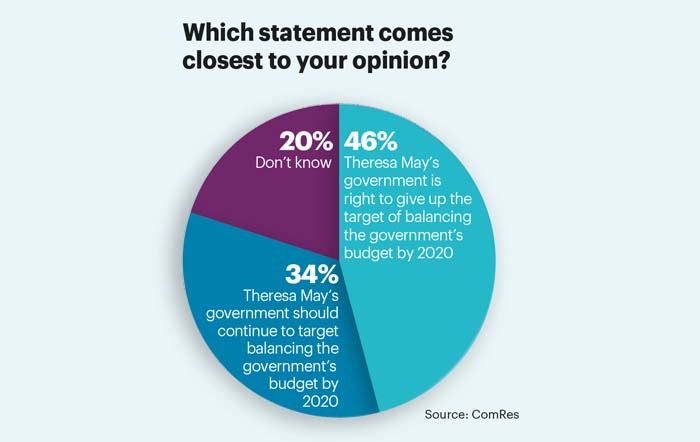 Prime minister Theresa May can rely on a healthy level of public support for her decision to give up George Osborne's target of balancing the budget by 2020, with 46% of votes agreeing she is right to do so, according to a ComRes poll.
Around one third of voters disagreed, with 34% saying the government should continue to target a surplus by the end of the decade and one in five (20%) professed no opinion. Support for May's fiscal stance was strongest among Liberal Democrat and Conservative voters (56% and 51% respectively). Among voters of all stripes, support for abandoning the deficit target outstripped opposition.
Labour and Green supporters appeared the most unsure, with almost a quarter of each group surveyed opting for "don't know".
Pliable pensions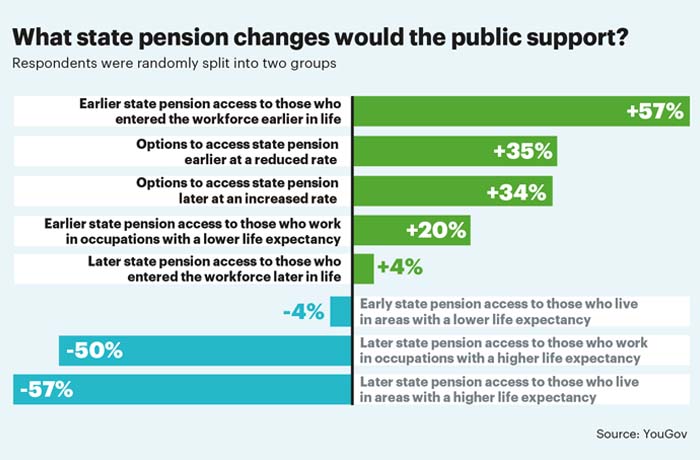 There is a high level of public support for a more flexible approach to state pension access, a YouGov survey has found.
A suggestion that people who entered the workforce earlier should be granted earlier access to their state pensions garnered a whopping 57% in net support. Early access in exchange for a reduced rate was also popular, achieving 35% net support.
However, the idea that state pension access be delayed for people in areas of higher longevity or who worked in occupations with higher life expectancy did no go down well, with 57% and 50% respectively being against these suggestions.
Crime watch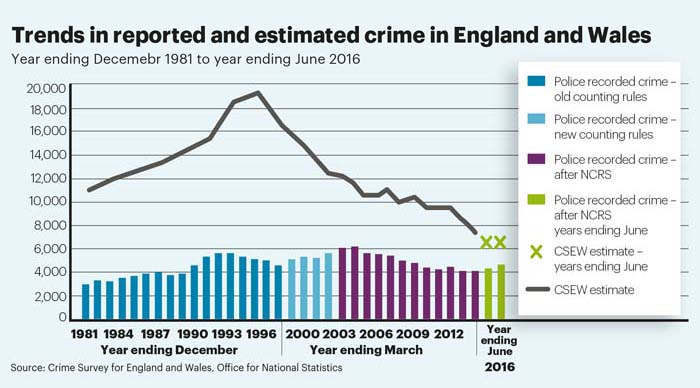 Crime has been falling steadily over the past two decades after peaking in 1995, the Crime Survey for England and Wales shows. According to the latest survey, published by the Office for National Statistics, adults experienced an estimated 6.4 million instances of crime against people and households in the year ending June 2016. This is a slight but not statistically significant drop on the 6.5 million crimes reported in the previous year.
The likelihood of being a victim of crime has fallen over time; around 15% of adults were victims in the latest survey year compared with around 23% a decade ago and 40% in 1995.
Police-reported crime in the year to June 2016, however, was up 7% on the previous year, driven by an increase in recording of violence against the person and sexual offences.
The ONS noted this was against a backdrop context of a renewed focus on crime recording from the police inspectorate.
Small-time crooks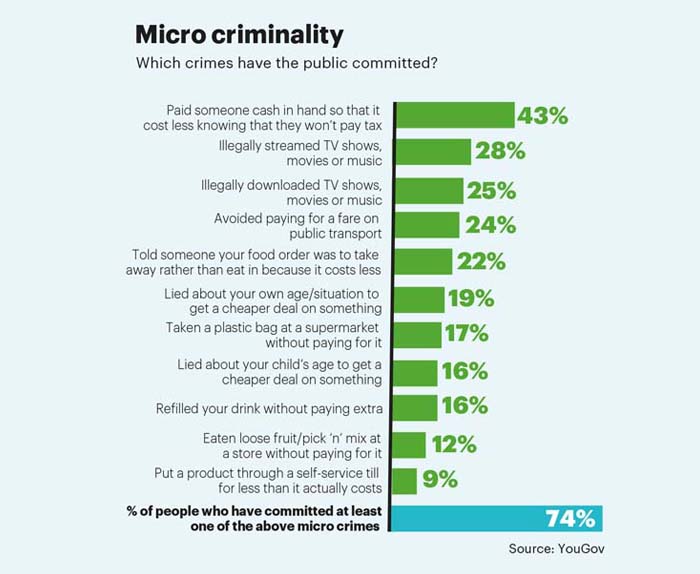 Paying cash in hand and riding on public transport without a ticket are among the "micro crimes" members of the British public have confessed to.
Three quarters of people told YouGov they had committed low-level crimes, such as taking a plastic bag without paying for it, putting a product through on a self-service till for less than it should cost or helping themselves to pick 'n' mix at the supermarket.
The most common micro crime by far was paying someone cash in hand knowing they would not pay tax on the income, with 43% admitting to this.
Illegally streaming or downloading films or TV shows and fare dodging were also common offences.
The weal of the bus goes round and round
Improving local bus services can boost employment, raise incomes and help reduce social deprivation, research commissioned by Greener Journeys has found.
It concluded that a 10% improvement in local bus services is linked to a 3.6% reduction in social deprivation across England. Tangible benefits would include almost 10,000 more jobs, a higher income for over 22,000 people and 2,596 fewer years of life lost.
The research, carried out by KPMG and the Institute for Transport Studies at the University of Leeds, is the first to assess the impact of bus services on deprivation.
Greener Journeys, a coalition of public transport organisations and user groups, is calling on the government and policymakers to prioritise investment in buses and bus infrastructure and consider wider social impacts when appraising transport schemes.