Quick wins
Average voters: under proposals to cut the number of MPs by 50 to 600 by changing parliamentary boundaries, UK constituencies will have an average of 74,769 voters. Every constituency in England must have an electorate within 5% of this number.
Powerful pay rate: French state-owned energy firm EDF will be guaranteed £92.50 per MWh in 2012 prices for 35 years, under the deal to build the Hinkley Point C nuclear power station.
Mutiny hits UKIP's helm: Diane James stepped down as UKIP leader after 18 days. She said she did not have "sufficient authority" or party support to continue.
Grammar check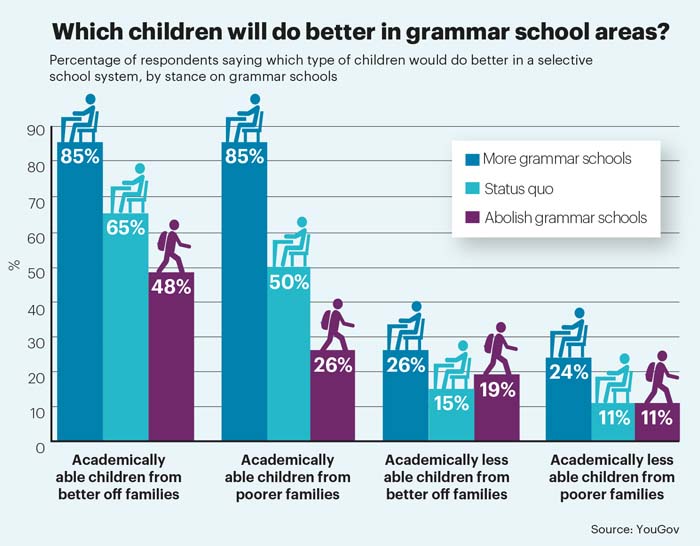 Following Theresa May's announcement that she would lift the ban on new grammar schools, their effects on social mobility have been much debated.
According to pollsters YouGov, supporters of more grammar schools admit that children who are less academically able would fare better in a comprehensive system.
Around 85% of those who want more grammars say they are good for academic children. However, only around half of this group say they are good for less able pupils and six in 10 of them think these children would be better off in a comprehensive system.
Record low staffing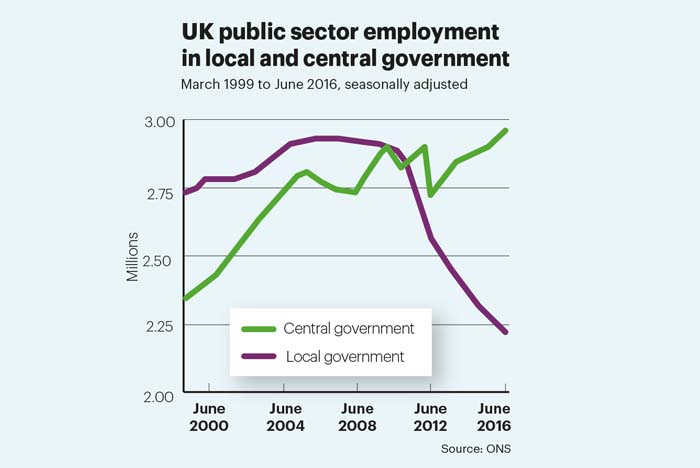 Public sector employment fell to a record low in June, with a drop of 13,000 to 5.332 million. This is the lowest since the Office for National Statistics began recording it in 1999.
Local government employment was nearly 2.2 million – around 13,000 lower than in March this year. However, employment in UK central government, at just under three million, was 1,000 higher.
This reflects the continuing shift of employees from local to central government through the conversion of local authority schools to academies. Around 36,000 staff moved to central government because of academy conversions in the past year.
Trusting times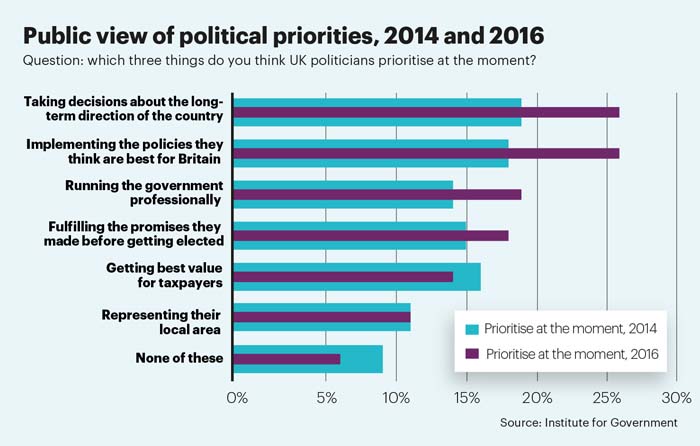 Perhaps unexpectedly, given the debates over the EU referendum, the public is more likely to trust the government to focus on the right things than two years ago.
A poll by Populus for the Institute for Government found a rise from 19% to 26% in people who believe politicians are prioritising long-term decisions that are best for Britain than in 2014, with a rise from 14% to 19% in those saying that politicians prioritise running the government professionally.
However, perhaps politicians shouldn't be too pleased – both these figures are still below 30% and people still think representing their constituency is a low priority for MPs.
Rooms to care?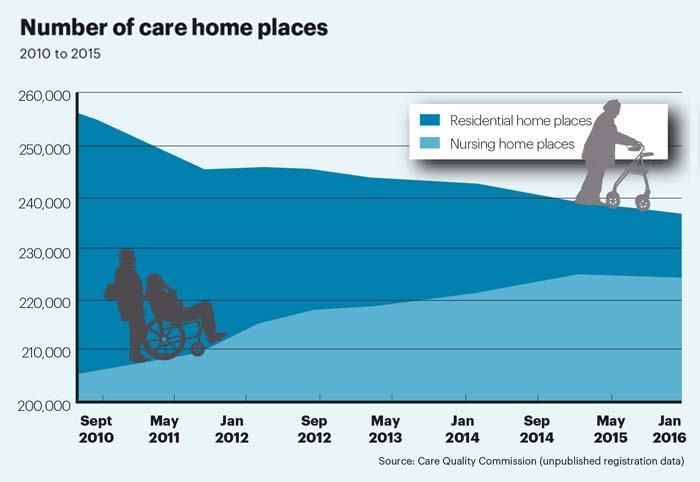 A study by the King's Fund and the Nuffield Trust has reported a steady reduction in the number of residential care homes since 2010, with the number of places falling by 7%.
However, it noted that the number of nursing homes, which cater for people with a medical condition that requires nursing attention, has increased over the same period, with 9% more places.
Seventy-seven local authorities said that at least one care home provider had ceased trading in their area in the past six months, according to figures from the Association of Directors of Adult Social Services.
Opportunity to invest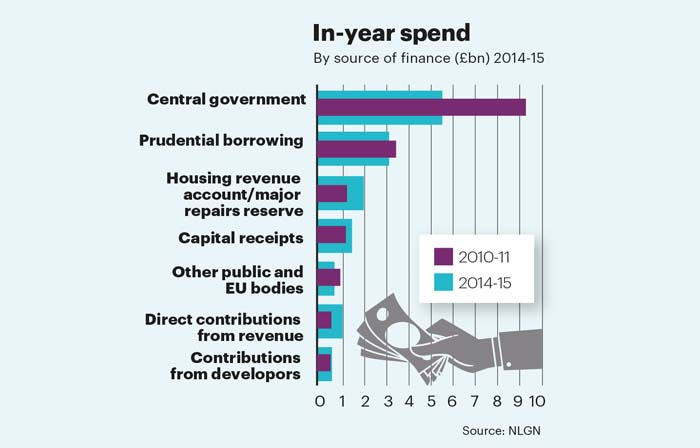 Councils are becoming sophisticated financial investors, using historically low interest rates to invest in assets ranging from housing to petrol stations and shopping centres, according to the New Local Government Network.
Despite government cuts, councils made more than £20bn of capital investment in 2014-15 in England and Wales, more than four years ago, with funds from a widening range of sources offsetting the lower contributions by Whitehall.
A few smaller councils have been able to use revenue from capital investment to become fully independent of national grant funding.
No housing crash after Brexit vote
The average UK house sale price in July was £216,750, up £900 from the previous month but, at just 0.4%, this was the lowest rise since February.
The first month following the referendum result saw prices fall in Wales (-1.8%), the South West (-0.3%) and the West Midlands of England (-0.8%).
An analysis of the market by the Centre for Economics and Business Research concluded prices rose because the supply of homes was limted.
The economics consultancy expected the number of properties coming onto the market to remain subdued as many prospective sellers were expected to take a "wait and see" approach in the aftermath of Brexit.
In the medium and long term, the housing market will depend on the economic and immigration policies agreed during the UK's exit negotiations with the EU, the CEBR said.