Quick wins
Criminal cash: the €500 banknote is likely to be withdrawn amid claims it helps tax-dodgers, criminals and terrorists. The note accounts for about one third of euros in circulation by value.
Better disposed: median disposable household income after tax was £25,700 in 2014/15. That's £1,500 more than in 2012/13 (after inflation and other adjustments) and similar to pre-downturn levels.
Family men: South Korea has the world's most generous paternity leave at 53 weeks, the same as maternity leave, but only 2% of dads take it. UK fathers get two weeks; the OECD average is eight weeks.
Town and country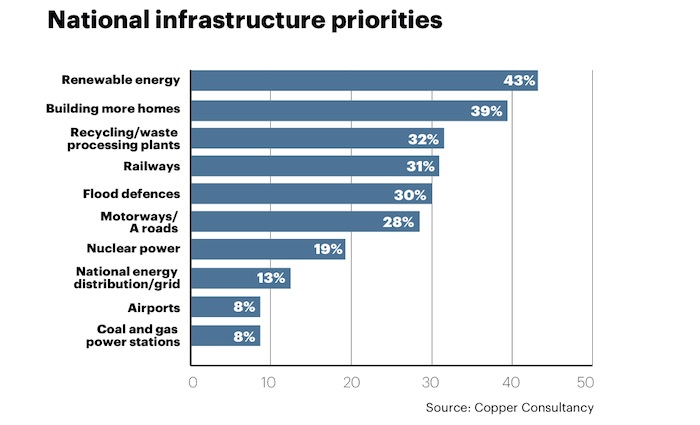 Expanding renewable energy provision and building more homes are the nation's top infrastructure priorities, according to research coordinated by Copper Consultancy on behalf of the nascent National Infrastructure Commission.
Unsurprisingly, priorities shift somewhat when the focus narrows down to local levels, where roads and public transport are the areas of greatest pain.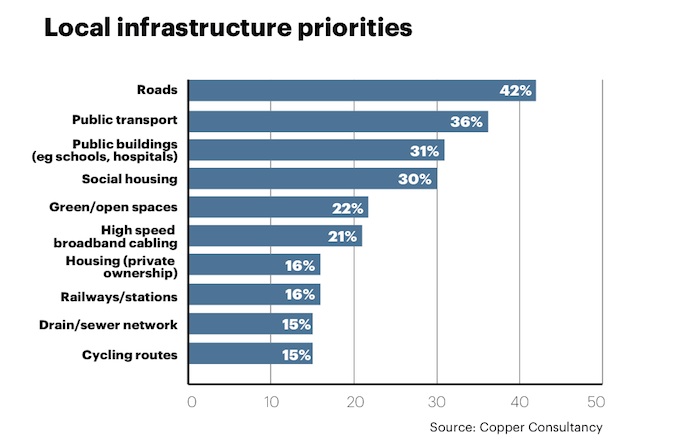 Local development priorities were reasonably constant across the UK's regions, but the polling found a distinct urban-rural divide, with public transport given even greater emphasis and better broadband also cited as a top concern by those living in the sticks.
At the national level, 46% of people living in cities chose housebuilding as a priority, while only 33% of those living in rural areas did the same.
Focus groups consulted highlighted predictable concerns about extra housing threatening the identity of rural areas.
Ups and downs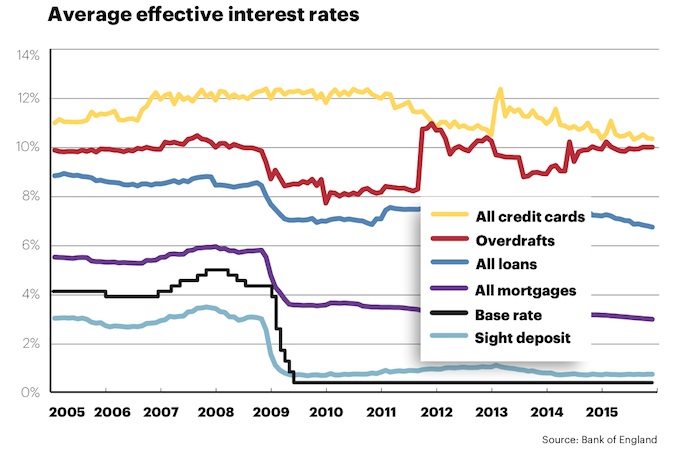 We often hear complaints about domestic energy prices lifting off like a rocket and falling like a feather, with the markedly different reaction speeds depending on who is being favoured by moves in base commodity prices. The same might be said about finance, as the graph above – plucked from Bank of England stats by the Resolution Foundation – amply illustrates.
The average rate charged on an overdraft, for example, has soared back up to its pre-crisis 10% level despite no upward budge in base rates whatsoever, while returns on instant-access (sight) deposits have suckered onto the flat base rate with the tenacity of eight octopus limbs.
The foundation's report attempts to assess how the UK might react to the next downturn. In new and probably surprising ways, is the upshot.
Grim reading
People living in the North of England remain somewhat sceptical about the likely benefits of plans to create a Northern Powerhouse of reinvigorated cities.
Polled by Ipsos Mori, only 28% of people aged 16-75 expressed a positive sentiment about the likely impact within their own lifetime, while only one in three thought that people in the future would be able to look back on the Northern Powerhouse project and conclude it was worth the effort.
No doubt a lack of knowledge underpins these negative sentiments. Perhaps surprisingly, about half of those polled (49%) said they had not heard of the Northern Powerhouse concept before the survey was carried out.
Asylum seizures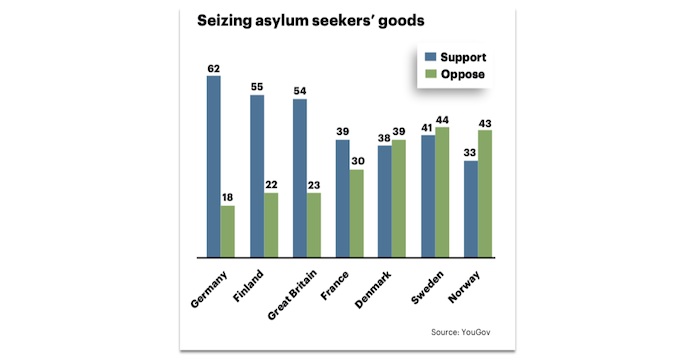 In January, Denmark enacted a law allowing the state to seize goods and cash worth more than about £1,000 from asylum seekers, to pay for their keep. While the Danish parliament passed the bill by 81 to 21, support for the measure among ordinary Danes is not so forthcoming – with 39% opposing the notion and only 38% approving of it (and presumably 23% wavering in the middle).
The British public, by contrast, is more firmly in favour of taking a hard line, according to YouGov's poll at least, with 54% in favour of such seizures and just 23% opposed.
Meanwhile, Germany, having given shelter to a great many refugees, is even more inclined to feel asylum seekers must be forced to cough up.
Chasing the jobs

The ratio of unemployed people to vacant jobs has changed considerably over the past four years. At the tail end of 2011, there were 5.6 people out of work for every vacancy; today, there are just 2.2 jobseekers per empty seat, according to ONS figures.
Today's ratio is close to historical lows, roughly on a par with levels in 2001, 2004 and late 2007, immediately before the financial crisis.
The ratio measures spare capacity in the labour market. Rising figures are associated with economic retrenchment – a ratio of 5:1 or greater was seen between February 2009 and April 2013, over the depths of the recession. Falling ratios indicate the prospect of greater difficulty in recruitment and consequently pressure to increase wages.
The latest ONS figures for job-to-job moves – switching employer between one quarter and the next – also show a sharp fall in job mobility during the downturn and subsequent rise.
From a nadir of 1.70% of staff in late 2009, activity picked up to reach 2.35% by the end of 2015.
Mobility is somewhat below peaks of 2.85% in 2004 and 2.59% just before the credit crunch.