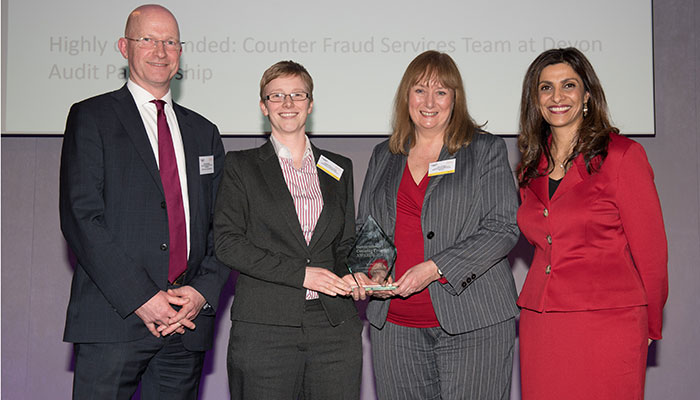 A number of public sector organisations have been recognised for their efforts in tackling fraud, which is estimated to cost the UK government between £31bn and £49bn every year.
Winner of the 'excellence in fraud prevention' category was the HMRC for its 'tackling alcohol at source' campaign, at the awards evening at the Queen Elizabeth II Centre in London last night.
NHS Scotland Counter Fraud Services Fraud Prevention Team took home the 'government counter fraud team of the year' award.
HMRC Fraud Investigation Service was named winner of the 'outstanding proactive detection' category.
Meanwhile, Lincolnshire County Council's counter fraud and investigations team won the 'excellence in raising fraud awareness' category.
Rob Whiteman, CIPFA chief executive, said: "The innovation and collaboration taking place in government counter fraud on display last night illustrates the depth of talent in the sector.
"It was great to see so many experts exchanging ideas to tackle fraud, which costs the public billions every year. CIPFA is proud to support such a crucial event for celebrating counter fraud excellence, and sharing the best practice across the profession."
Detective superintendent Alex Rothwell, City of London Police, said: "The profession has done a fantastic job at galvanising the counter fraud community and created a palpable sense of togetherness, ambition and progress.
"City of London Police are committed to maintaining and indeed building upon our relationship and congratulate the award winners on their success."
The awards are an initiative between the Cabinet office, CIPFA, the National Crime Agency and City of London police
Read Rob Whiteman's blog for PF on how AI can be used to tackle fraud.
Full list of winners:
Outstanding Collaboration - Operation Holmes: Department for Work and Pensions (DWP), Rotherham Counter Fraud and Compliance Directorate, Rotherham Metropolitan Borough Council Housing Benefits and South Yorkshire Police Rotherham Central Team
Excellence in Fraud Prevention - HMRC 'Tackling Alcohol Fraud at Source' campaign
Excellence in Raising Fraud Awareness - Lincolnshire County Council's Counter Fraud and Investigation Team's (CFIT) fraud awareness for schools campaign
Government Counter Fraud Team of the Year - NHS Scotland Counter Fraud Services Fraud Prevention Team
Outstanding Proactive Detection - HMRC Fraud Investigation Service (FIS) initiative to combat VAT Flat Rate Scheme fraud
Innovative Approach to Sanctions and Redress - Operation Octopod: HMRC Fraud Investigation Service (FIS), Criminal Taxes Unit (CTU), part of the Proceeds of Crime Team, assisting London RART and the MPS Proactive Money Laundering Taskforce
Outstanding International Collaboration - International Charity Fraud Awareness Week: a campaign run by the Charity Commission for England and Wales and the Fraud Advisory Panel with partners in Australia, New Zealand and the US
Outstanding Contribution to the Government Counter Fraud Profession (GCFP) - Government Internal Audit Agency (GIAA) Counter Fraud and Investigation team.