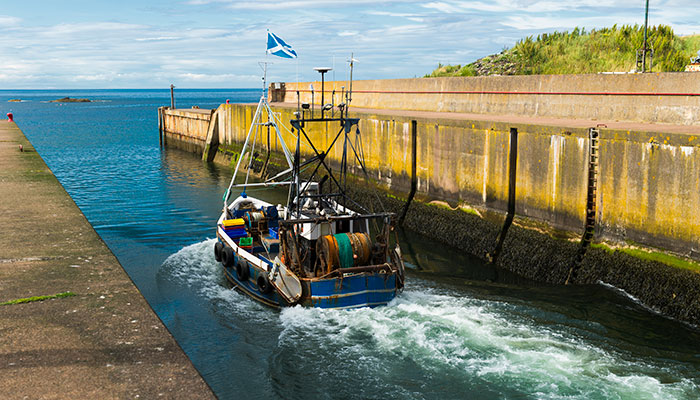 The Scottish fishing industry fell under the spotlight of attention when world-renowned economic crime expert, Nick Branigan, initially began his investigations into the evasion of tax and duties. But what began as a regional inspection soon became an extensive, multi-agency, cross border anti-fraud undertaking with far reaching and long-term consequences.
'One of my overarching aims was to share intelligence. But, it's not an easy thing to do especially when multiple agencies and governments are involved, as they were when I first embarked on this journey to investigate illegal and fraudulent exploitation of fish stocks", explains Nick Branigan from HM Revenue & Customs and winner of the Government Counter Fraud Professional of the Year Award 2017 Award.
Building trusted relationships
He added, "When working on an investigation of this scale and magnitude you must find people you can work with to drive things forward and to achieve small wins. Once you can demonstrate success you can then persuade others to join in the conversation."
Now a recognised and sought-after international speaker, Nick Branigan has used his investigative talents to create a multi-faceted integrated law enforcement programme involving co-operation across all the countries that border the North Atlantic to tackle crime and fraud in the fish industry value chain – from the initial harvesting to the end user, namely the consumer. Yet, when his investigation first began Nick describes "stumbling into it. No one knew what was going to happen." What at first appeared to be a clear-cut investigation with defined boundaries soon became a multi-layered and complex beast.
When initially addressing the issues surrounding the evasion of tax and duties in the Scottish fishing industry, Nick found that the tax frauds uncovered had their roots in earlier frauds in the fishing industry's value chain and that these were inflicting greater damage on UK Plc than the final tax fraud.
Not only was the long-term sustainability of the UK fishing stocks being undermined, Nick also uncovered fraudulent use of labour and the employment of undocumented workers in conditions of "modern slavery and human trafficking."
Beyond borders
"It's such a vast subject. It's easy to get distracted. There is so much intelligence that it can be difficult to distil the information you need and to focus down. But, in order to address the economic side, it's vital that you understand the industry, what shapes it and critically the value chain," adds Nick.
Therefore, one of the early challenges for Nick as a member of the North Atlantic Fisheries Intelligence Group (NA FIG) was to establish clear parameters and these have changed again over time. It became apparent, for instance, that initial focus on the North Sea was too narrow and so the group expanded to include the North Atlantic and the countries border it including, Canada, the United States, Iceland, Greenland, Norway, Denmark, Sweden, the UK and Spain.
"Fish and fisherman don't recognise borders and can land anywhere. In order to be successful we needed to change our thinking and to look beyond our jurisdiction, across borders and to start sharing information with multiple agencies and government. This was the only way we could be successful. In doing so a whole range of risks beyond tax risks were revealed. To have this level of clarity required all of us to have a thorough understanding of the value chain and to be able to identify risks along the way," concluded Branigan.
When asked how he felt about winning the Government Counter Fraud Professional of the Year Award, Nick was both delighted and surprised. Nominated by his colleagues, Nick had no idea he was in the race to win until the day of the Awards. Delighted to be the overall winner, Nick confirmed that the Award has "raised the profile of the work that he is doing, which is important. It's important because the UK fishing contribution to GDP is less than 1% so it's often not considered a strategic industry.
However, the UK is a major player in the European fisheries sector and the largest fish processor in Europe. Plus, the reach, influence and impact the fishing industry has is significant and should not be glossed over."
In terms of advice for those new to counter fraud, Nick encourages sharing of intelligence, ideas and information. "If you want people to share intel with you, you must be prepared to share something in return. It must be true sharing and they must see an advantage or benefit to speaking with you."
What's next?
Nick's unique strategy boosted tax receipts by £30m.
In addition, the financial recovery strategy now has over £20m of yield in the delivery pipeline. Today, Nick's work and approach is being integrated into HMRC's threat assessment and he is currently advising The United Nations Office on Drugs and Crime (UNODC) on issues such as transnational organised fisheries crime and corruption in the fisheries sector.
Don't forget to get your nomination in for the Government Counter Fraud Awards before they close on Friday 30 November.