By Richard Johnstone | 18 March 2013
Whitehall funds for training, housing and transport are to be devolved into single cash pots for Local Enterprise Partnerships, ministers announced today in their response to the Heseltine growth review.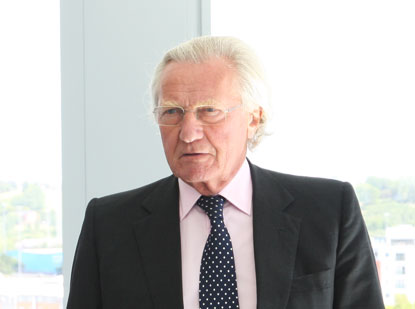 It has also been confirmed that government-backed industrial strategies would be created in 11 key business sectors to co-ordinate state support.
Former deputy prime minister Lord Heseltine made 89 recommendations in his No stone unturnedreport, published last October. The government today said it would implement 81 in full or in part. Three more will be considered in the forthcoming Spending Review, which will report on June 26, while five have been rejected outright.
Other recommendations accepted include Heseltine's call for LEPs to develop new strategic multi-year plans for local growth, and for European Union structural fund awards in England to be closely aligned to these proposals.
However, the government rejected the call for all two-tier English council areas to 'pursue a path towards unitary status'. The response stated ministers would support 'local authorities that wish to create a combined authority or implement other forms of collaboration including conurbation mayors'. But it added that town halls should not be 'distracted by structural change'.
Under the Single Local Growth Fund scheme, which will be introduced from 2015/16, all 39 existing LEPs will negotiate a local growth deal with the Treasury, Chancellor George Osborne said. The single funding pot will be partly distributed to the partnerships on a competitive basis, with the quality of local plans helping to determine each local allocation, as well as local need.
Full details of the size and content of the fund will be announced in the Spending Review, but elements from existing central government budgets for transport, housing and skills would be included.
Osborne said this would be a 'something-for-something deal', with LEPs required to put the right governance arrangements in place with member local authorities to win most funds. They would also need to find match funding from the private sector.
Speaking ahead of the Budget on Wednesday, the chancellor added: 'We asked Lord Heseltine to do what he does best: challenge received wisdom and give us bold ideas on how to bring government and industry together. He did just that, and that is why we are backing his ideas today.'
Deputy Prime Minister Nick Clegg said the creation of a single funding pot would help reverse the centralisation of control and power over the past few decades in Britain.
Heseltine's local vision was the 'best way to foster local growth and stimulate the economy' across the country, he added.
'A single local growth fund that Local Enterprise Partnerships apply to, joined up working between local authorities so they make strategic decisions on projects that boost growth, such as infrastructure spanning their areas, and specialist support from civil servants.
'It's a big change from the hand-out attitude of the past that stifled innovation and turned the regions into powerless centres that relied on Whitehall for jobs and spending.'
Responding to the announcement, the Centre for Cities think-tank said the government had an opportunity to redefine the relationship between central and local government.
In an analysis of the government's response, the centre said the creation of a single funding pot for local areas should be the top priority. It also urged ministers to be 'flexible' about the institutions and areas to which it devolves funding, and to 'resist the temptation to continue setting the agenda nationally' for LEPs.