By Richard Johnstone in Liverpool | 4 July 2012
A continuing rise in the UK deficit could increase government borrowing costs if bond markets fear the coalition is 'losing control', journalist Paul Mason told CIPFA's annual conference today.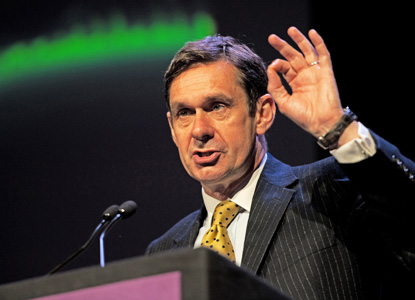 Speaking to delegates, Newsnight's economics editor highlighted the fact that the government deficit was beginning to grow again as the economy fell into recession. He said his 'fear' was that if the eurozone became stable, bond markets would 'start to look at Britain'. 
Mason said: 'You don't want a double-peak deficit. If that doesn't stop, the international bond market might look at it, external investors will say the UK government is losing its control over the deficit plan.'
He also told delegates that his prediction is that the additional two years of government spending cuts, outlined in last year's Autumn Statement, 'isn't going to happen'.
They would require either large cuts to welfare spending or to the funds for individual departments, which were going to prove difficult, he said.
The financial crisis of 2008 was leading to 'something big changing in our economy', he said.
Following the crisis, governments had managed to stop the spread of toxic debt, which had 'burned through' the banking system to the real economy and then on to the state.
This meant that the model of 'letting the financial system rip', taxing it and redistributing it to other parts of the country was gone, Mason said. 'That was the Blairite model and even if you wanted to do it again, you can't.'
Instead, he warned that there would be financial repression, where long-term government bonds would be sold with high inflation then used to erode away national debts.
A lot of attention is being paid to how government debts were reduced in the 30 years following the Second World War, he said. This was done through inflation and forcing the national population to lend to the government, including obliging pension funds to hold an amount of national debt.
Moves by the Treasury to issue 100-year bonds was a 'sign we are going' in the same direction, he said. 
However, Mason added that some states would not be able to halt the flow of toxic debt, and he predicted that Greece would leave the euro currency. 'I think Germany will force the Greeks to exit even if they don't choose to exit,' he said.