By Richard Johnstone | 2 July 2014
The economic recovery has been led by household consumption but a 'frothy' housing market and poor trade and productivity statistics raise questions over long-term sustainability, CIPFA's annual conference has been told.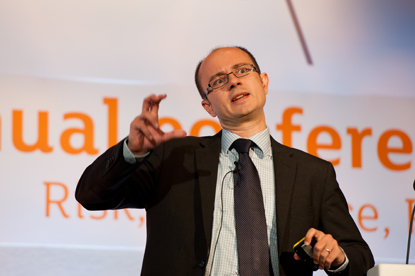 Chris Giles, economics editor of the Financial Times, told delegates that economic growth was real, with growth rates above 0.5% in each of the last four quarters.
Household consumption has been key to the revival, he said, as the single biggest contributor to economic expansion over the last year.
'Confidence was incredibly important in this recovery,' he said. 'Both consumer and business confidence took off at the start of 2013. it wasn't expected, but they've been rising ever since.'
Although this is by far the best UK outlook since 2008, Giles said growth in house prices meant that the market was 'frothy', while the UK's trade position was 'bad' and there was a real problem with labour market productivity despite recent growth.
'The problem with productivity growth is that if your productivity isn't growing, that ultimately determines your living standards, and so that means the potential for growth declines.'
Overall, extraction industries such as mining and oil production, banking and financial services and utilities had contributed more than half to the fall in UK productivity since the financial crisis. 'They have made up about 75% of the drop in productivity, and the worry now is that it's not something that's going to bounce back as the economy recovers.' There were three key facts that fed into the sustainability question, he said. House prices could not keep rising ahead of incomes, Britain could no keep borrowing more from abroad, and, without higher productivity, there could not be no long-term growth.
'We can recover, for certain, but once we get rid of all the unemployed, then it will be much harder to go forward from there. These are big sustainability questions.'
Giles also said that tax revenues were now projected to be £20bn lower this year than had been forecast in the 2011 Budget.
Weak taxes were also creating the need for more austerity to balance government spending in 2017/18, due what he called avoidance, evasion and the fact that the recovery is coming in sectors that are not so highly taxed. The Office for Budget Responsibility has forecast that government consumption was projected to fall to only 16% of nominal GDP, the lowest level on record since the first quarter of 1948, he added.
This would leave the next government with 'big choices', he added. Although all parties sounded like they had similar pledges to balance the budget during the next parliament, there was a different between the Liberal Democrat and Labour pledges to run a current surplus by 2017/18 and the end of the next parliament respective, and the Conservative pledge to instead run a total surplus would amount to a difference of £26bn in public spending in 2018/19.
'The LibDems and Labour are about £26bn a year looser than the Conservatives and that means that if they met these plans debt would fall slower under a Labour or LibDem government,' he concluded.