By Richard Johnstone | 7 February 2012
Fewer than half of the government's 206 major infrastructure schemes are on track to be delivered on time and on budget, according to the Major Projects Authority, which oversees the work.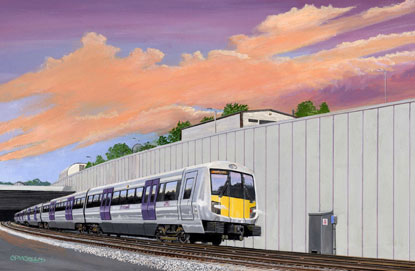 The figures were revealed today at the launch of a project management training scheme for senior civil servants, which is aimed at ensuring more taxpayer-funded projects are completed on schedule.
The MPA, a partnership between the Cabinet Office and the Treasury, co-ordinates work on big construction projects such as Crossrail, High-Speed Rail 2 and large IT schemes.
But only around 40%-45% of these projects are progressing to plan, executive director David Pitchford said. The authority hopes that the launch of its training programme, the Major Projects Leadership Academy, could lead to 'significant' savings in the £408bn whole-life costs of the schemes.
Every government department will nominate at least one civil servant to the academy, which will be created and delivered in partnership with Oxford University's Saïd Business School and begin in October. Two groups of approximately 25 people will enter the academy every year.
The scheme forms part of plans to reduce central government's reliance on external consultants on major projects. Pitchford said that there could be a 'significant' reduction in their use once the scheme has been running for a number of years and around 250–300 people have been trained.
Eventually, it is planned that only civil servants who have passed the course will be able to act as the lead government official on a project – the senior responsible officer.
Training will include a one-year formal programme covering three primary themes – leadership, technical understanding, and commercial capability.
Pitchford said that these were identified as the three main problems that had led to projects going wrong in the past. Each participant in the scheme will also be required to complete a series of complex assignments and assessments to complete the programme.
Announcing the academy, Cabinet Office minister Francis Maude said taxpayers 'need to know' that major projects will be completed on time and to budget.
'We do have impressive expertise in the public sector at the moment, but we want to take a long-term view and build this within Whitehall. Crucially, this will relinquish taxpayers from having to foot the bill for external consultancy to deliver the projects and services the country needs.
'This is an important step in our plans to reform the civil service – we want to build world-class project leadership skills within government. Starting with our current leaders, we will develop a generation of professionals that are internationally recognised for their skill and expertise.'
The MPA has managed to save around £147m since its launch in 2010 by reviewing the government's biggest projects to see where costs could practically be reduced within contracts.
Sir Bob Kerslake, head of the civil service, said that he believed 'passionately' in the ability of the civil servants to drive through big projects 'without always having to turn to expensive external consultants'.
He added that he was keen for civil servants to stay on a single major project 'for a long time'.
Kerslake admitted that some projects that have not gone well have had 'quite a high turnover' of civil servants.