Quick wins
Social home shrinkage: Just 738 homes were built for social rent in the capital in 2015-16, down from 4,880 four years earlier. The figure was uncovered by an audit of London's affordable housing ordered by new mayor Sadiq Khan.
Parental payouts: The 'Bank of Mum and Dad' will provide a total of £5bn this year to help their offspring buy a home, according to Legal & General. Parents will help finance 25% of property transactions, equivalent to being a top 10 mortgage lender.
Busy fitting the bills: The government intends to introduce 21 bills to parliament over the next legislative session, the May Queen's Speech revealed. MPs will have their work cut out as another 14 have been carried over from the last session.
NI nomads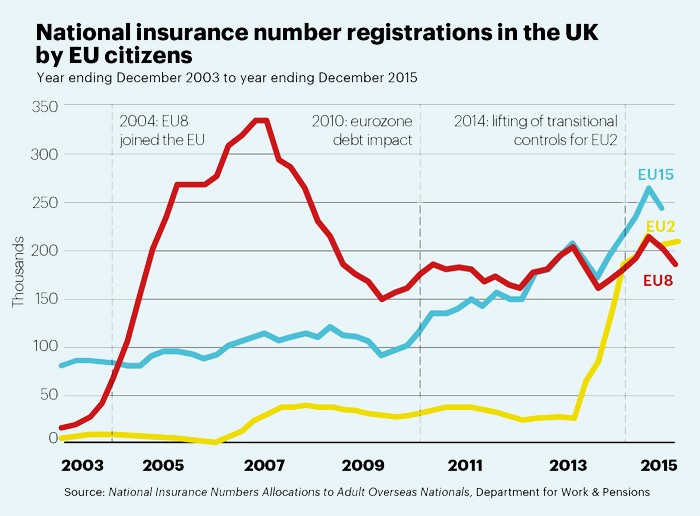 There have been some marked fluctuations in the number of EU citizens registering with the Department of Work & Pensions for national insurance numbers, which clearly mirror changes to labour market access and wider economic conditions.
The graph shows a sharp rise in applications from the EU8 countries – the eastern European countries that joined the union in 2004. Registrations peaked in 2007, just before the financial crash, then tailed off sharply. Since 2010, there was a clear rise in registrations from the original western EU15 countries as the effects of the eurozone crisis bit.
A similarly sharp spike in registrations from EU2 citizens – Romanians and Bulgarians – following their accession in 2014 can also be seen, although the rate of increase has recently slackened. According to the Office of National Statistics, national insurance number registrations are not a good indicator of long-term migration trends, as many registrants stay in the UK for less than a year.
Young bucks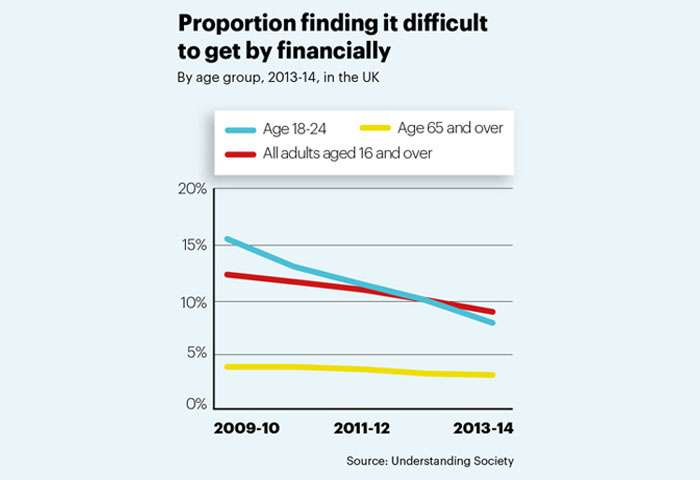 Despite concerns about intergenerational inequities and the plight of the millennials, wellbeing data from the Annual Population Survey suggests that young people's sense of financial security is improving.
Just over 15% of people in the 16-24 age group said they found it difficult or very difficult to get by financially in 2009-10; by 2013-14, this had fallen to around 8%. There's still a big gap when this is set against the over-65 age group, however. Fewer than 4% of older people say they are in a financially precarious position.
Sixties sentiment

Britain was at its greatest in either 1945 or 1966, a YouGov poll about nostalgic attitudes has found. The mid-20th century was the most popular period, with standout years being victory in the Second World War in 1945 and England winning the football World Cup in 1966. The curve of nostalgia was at its highest between 1940 and 1980, with the median year for British greatness being 1960 when prime minister Harold Macmillan made his Wind of Change speech and the Beatles performed their first concert.
The 1960s were chosen twice as often as any other decade, with only the 18-24 age group not nostalgic for that time. No one chose the Depression-ridden 1930s.
Continuity candidates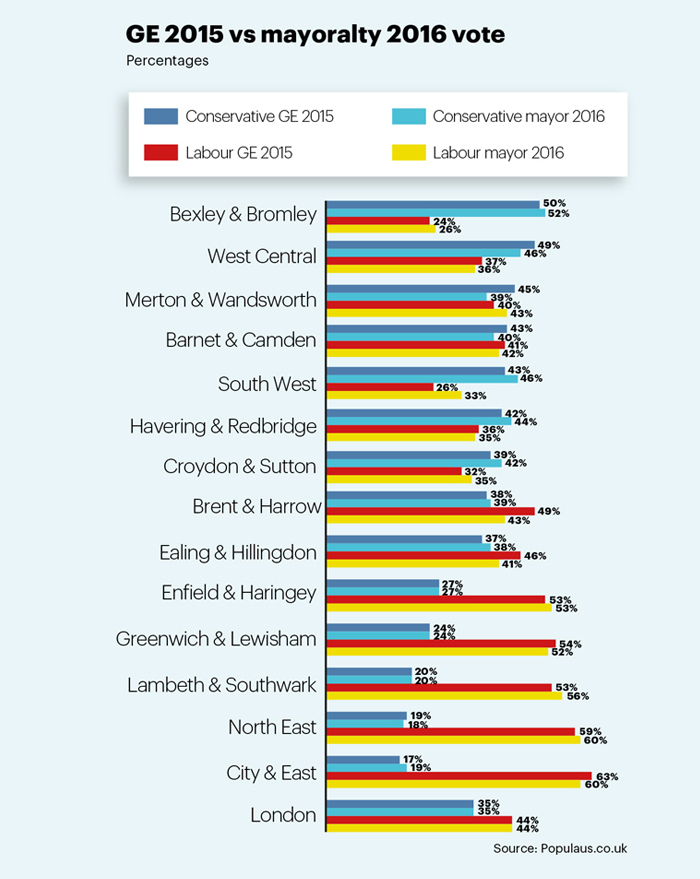 If you thought the electoral fates of Sadiq Khan and Zac Goldsmith in this year's London mayoral race represented any kind of change in fortune for their respective parties, then think again, analysis by Populus suggests.
Comparing first preference votes for the mayoral candidates against Labour and Conservative ballots cast across the capital in last year's general election shows remarkable consistency in vote share when broken down across the GLA's 14 'super constituencies'. In only a handful of areas did the mayoral hopeful outpoll last year's parliamentary candidates, and then by only a couple of percentage points.
Neither the election of Jeremy Corbyn and a reinvigorated Labour membership base nor the Conservatives' controversial 'dog whistle' campaigning seem to have made much impact on London voters.
The story, says Populus, is of continuity rather than change. Neither Khan nor Goldsmith proved more popular than his party.
Mounting mortality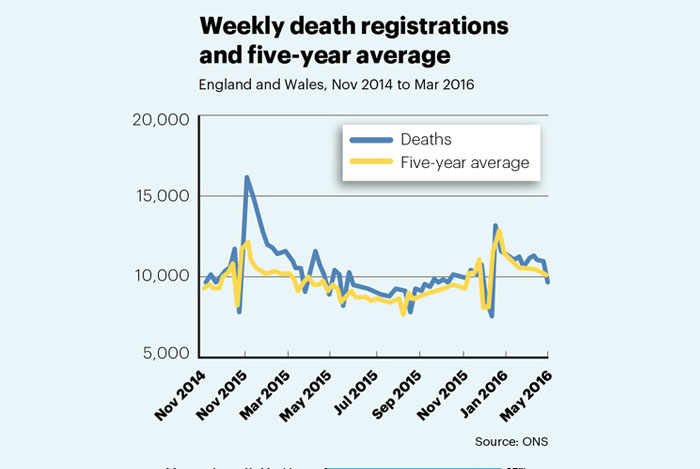 There was a rise of almost 6% in the number of deaths registered in England and Wales in 2015 compared to the previous year, the biggest year-on-year increase since 1967-68. According to provisional Office for National Statistics figures, there were 529,613 deaths in 2015, the highest since 2003.
The graph clearly shows that the number of deaths registered in the early months of 2015, when there was a flu peak, is well above the five-year average. Just over 24,000 more deaths were registered in that period than in the same period in 2014, and deaths remained above the five-year average until the summer.
Vacation violations
The number of pupils missing school to go on holiday with their families has climbed by 12% over the past academic year, according to Department for Education figures.
A total of 270,220 pupils took unauthorised breaks during the 2015 autumn term compared with 241,290 in 2014.
Parents who take their children out of school for family holidays can be fined by their local authority.
The issue hit the headlines earlier this year after the High Court ruled in favour of disgruntled father Jon Platt who had refused to pay a £120 fine for taking his daughter to Disney World in Florida during term time.
Overall absence rates in both primary and secondary schools have been falling, decreasing from 4.4% in autumn 2014 to 4.1% in autumn 2015. This continues a downward trend observable since autumn 2008 when the absence rate stood at 6.4%, the DfE said.