Worrying trends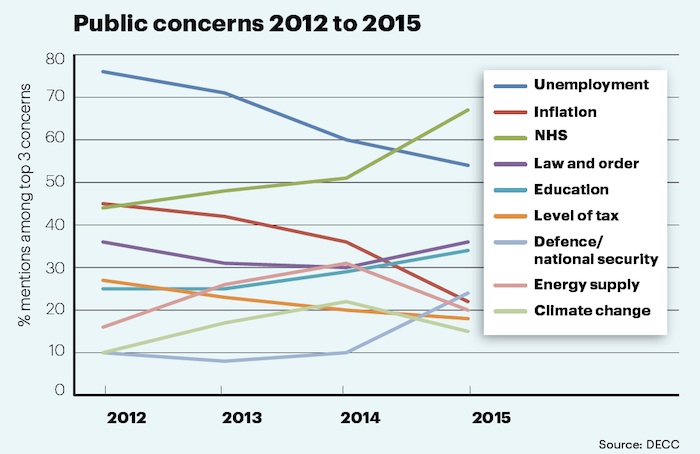 In March 2012 the Department of Energy and Climate Change (DECC) began regular polling to understand the public's top concerns – primarily to see where its own responsibilities lie within the larger picture of worries about the economy, employment and healthcare. The graph depicts the number of people mentioning a given topic among their top three concerns.
Since the first poll, attitudes have shifted in response to unfolding events. Worries about unemployment and inflation have fallen as the economy has improved, the NHS has leaped up to become the most-mentioned issue, and national security has also climbed strongly up the agenda.
Climate change, despite its disaster-movie potential for influencing everyone's future wellbeing, remains a surprisingly fringe concern.
Less gas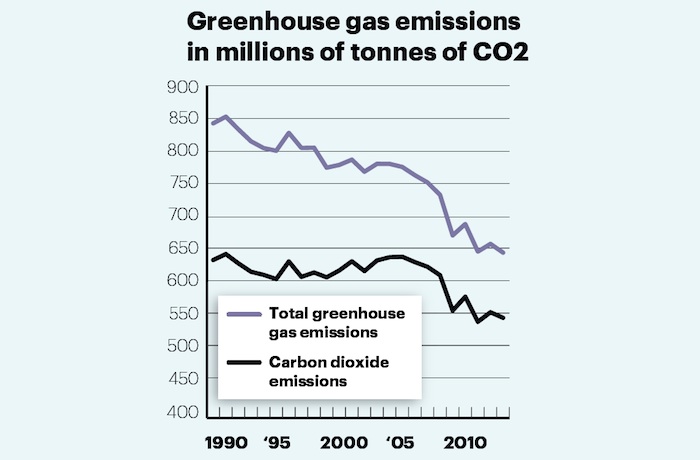 Perhaps the public is unfazed by climate change because people believe the UK is doing its bit. Figures show that the UK's overall production of greenhouse gases has fallen fairly consistently over the past couple of decades, while CO2 emissions in particular began to fall in earnest about a decade ago.
Whether the pace of improvement is sufficient, and how the UK's efforts influence the global picture, are another question altogether.
Up for the chop
The Conservative manifesto confirmed a commitment to find £12bn in cuts to the annual social security budget by 2017/18. At the time of writing, more than £10bn of the total has not yet been allocated to particular benefits or credits, but the Institute for Fiscal Studies has laid out the candidates waiting for the axe to fall, from the £125bn not protected by ring-fencing or other Tory pledges.
Dive into deflation
The Consumer Prices Index (CPI) of inflation fell below zero to -0.1% in April 2015, the first time the current annual measure has gone into negative territory since it was introduced. The UK has not undergone consumer price deflation since March 1960, according to the Office for National Statistics. Falling oil prices seem to be a big component.
So-called core inflation – a measure excluding energy, food, alcohol and tobacco – provides a less volatile picture but mirrors the current downward trend of the CPI.
Gross domestic product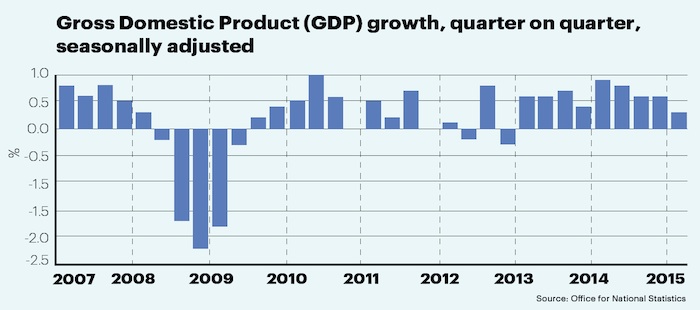 The second estimate of Gross Domestic Product (GDP) indicated that the UK economy grew by 0.3% in the first quarter of 2015. The figure represents a slowdown in recovery, following stronger growth of 0.6% in both quarters in the second half of 2014, the ONS notes.
The shrinking state
The number of civil servants fell by 18% between March 2010 and December 2014, from 492,000 to 405,000, according to the Office for National Statistics. The salary bill fell by £2.49bn to £11.13bn.
The percentage of civil service staff aged between 20 and 29 fell from 14% to 9% over the same period, while the proportion aged 50 to 59 grew from 26% to 31%.