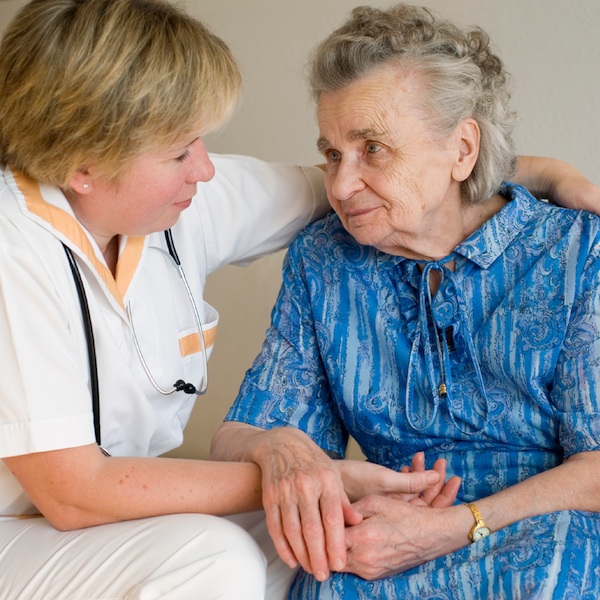 According to the National Audit Office, as many as one in 10 larger local authorities, responsible for adult social care, will have completely depleted their allocated reserves within the next three years.
For some, like Northamptonshire County Council, it's too late for intervention.
The coffers are empty and adopting the legal-minimum level of service, referred to as the 'core offer', is the only viable means of closing its £70m budget blackhole by next April.
This, coupled with the £6 billion funding gap in adult social care since 2010, is evidence of a system in crisis.
Unfair and unsustainable
The aging population isn't a new phenomenon but, as a society, we have been guilty of adopting a head in the sand mentality when it comes to preparing for its impact.
Sure, we've considered it.
Papers have been published, debates held, policies proposed but still the problem remains and is only set to worsen.
The most recent example of this relates to the publication of the Local Government Authority's Green Paper on adult social care, 'The Lives We Want to Lead'.
Yes, it acknowledged the severity of the issue but failed to offer financially viable, practical solutions capable of delivering positive and tangible change.
Designing and delivering adult social care that meets the needs of the UK's aging population isn't a straightforward task, which is perhaps why it hasn't received the attention it deserves: it offers no quick win potential for politicians.
The delay in the publication of the government's own green paper on adult social care, promised in the Conservative Party's manifesto ahead of the last general election and initially anticipated in the summer of 2017, goes some way in supporting this theory.
The sector, along with families across the country either supporting loved ones in receipt of care or worrying about how they will fund care services when they need them, are waiting with bated breath for guidance and assurance.
There's hope it will lay the foundation upon which radical reform can rest. There's also cynicism that it won't go far enough in offering workable solutions.
How we fund adult social care services is one of the biggest questions facing our generation.
In the current system, most of the money that goes into the sector is private: from families' own pockets. This is unsustainable and leaves 1.4 million older people without funding for the care they need.
Radical funding reform
Instead of a continuation of the current, failing system where the few control the many, what we need instead is radical funding reform that puts people at the heart of the policy.
Raising taxes or introducing additional National Insurance style system would bolster adult social care budgets but, after years of austerity, could represent the straw to break the camel's back for hard working families.
What's needed is a funding mechanism that focuses on, and gives power to, individuals.
A system that allows the people using care services to decide how their money is spent.
One way to achieve this ideal is to introduce an adult social care voucher scheme, a system that's been proven to deliver in the childcare sector and has helped more that 600,000 families since its launch over a decade ago.
A salary sacrifice initiative would be transferable to adult social care provision and would not only ease the financial burden on families and local authorities but drive up standards of care too.
In practice, adult social care vouchers would allow eligible tax payers to sacrifice a portion of their salary before tax deductions – which dependent on income could be up to £100 per week* to fund either their own or a dependant adult's care.
The vouchers could be flexibly accrued or deducted and, if needed, would allow multiple tax payers to contribute to a single individual's care.
Not only is the efficacy of this funding scheme proven, it's popular, simple to run, has controlled costs, is rarely defrauded and will provide both long and short-term benefits, while prioritising autonomy and choice for individuals.
The complex problem of funding adult social care requires collaboration and in-depth, multi-faceted solutions.
It's time the public and private sectors pulled together, embraced innovation and feasibility in equal measure, and take urgent action to implement a scheme that will put the individual's care needs first.
Only then will we stand a chance of averting a genuine national crisis and empower people to make decisions about their care based on what is best for them, rather than the best they can afford.