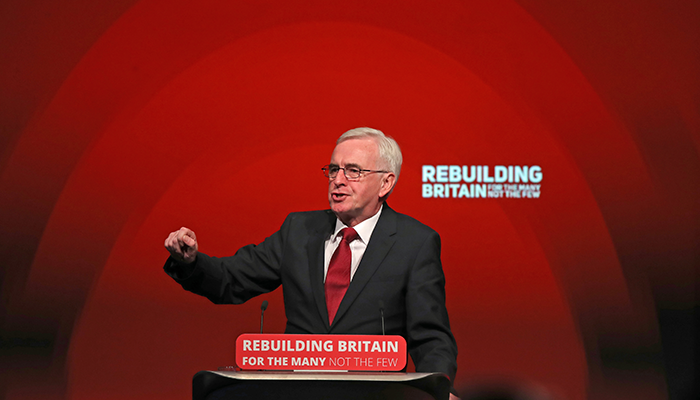 John McDonnell told delegates at his party conference today that a Labour government would 'rewrite' the rulebook on where government money is spent.
He told the conference in Liverpool: "For too long the establishment has used the Treasury as a barrier against putting power back into the hands of the people.
"So we will reprogramme the Treasury, rewriting its rule books on how it makes decisions about what, when and where to invest."
McDonnell said he wanted to address a "bias" against investment in "regions outside of London".
He also told delegates: "Let me make it absolutely clear that the full weight of the Treasury will be used to take on any vested interests that try to thwart the will of the people."
The Institute for Government think-tank released a report ealier this month suggesting the Treasury was lacking a "grasp of the real world", being staffed by young, inexperience civil servants who did not stay in the department for long.
McDonnell used his speech to announce Labour plans for companies to sign up to a 'fair tax mark' standard.
This would require firms to be transparent about the tax they paid to ensure they all handed over their "fair share of taxes", he said in his fourth conference speech as shadow chancellor.
Companies not paying the correct amount of corporate tax were "denying our hospitals, our schools and carers the resources they need", the shadow chancellor told the conference.
The fair tax mark is a certification scheme that was launched in February 2014.
The Tax Justice Network, an independent tax think-tank, said: "This is an opportunity for British businesses, from family-run corner shops to the biggest international firms, to lead the world in responsible tax practice."
Last week, leader of the Liberal Democrats Vince Cable called for a "renewed offensive" to tackle corporation tax dodging.
Addressing the Liverpool conference, McDonnell reiterated Labour's commitment to ending private finance initiatives and renationalising water, energy, Royal mail and rail.
He announced that the party would set up a 'public and community ownership unit', which would bring in external expertise to bring public services 'in house', he pledged.
The party is working out plans for a new publicly-owned water system, McDonnell added.
McDonnell, MP for Hayes and Harlington, said he was committed to tackling inequality in employment and pay.
"We'll ban zero hours contracts. We will lift people out of poverty by setting a real living wage of £10 an hour. And yes we will tackle the continuing scandal of the gender pay gap," he said.
McDonnell also said his party was ready for another general election.
He said: "Yesterday the press reported the Tories were drawing up secret plans for a quick general election. So the message from this conference is bring it on."
The full text of his speech is here.
See him giving his speech here:
Shadow chancellor John McDonnell tells #Lab18 Labour would force large companies to give shares to workers worth up to £500 a year https://t.co/43Kpei4474 pic.twitter.com/wI2GniMpoU

— BBC Politics (@BBCPolitics) September 24, 2018
---
See PF's analysis of CIPFA figures showing the gender pay gap in local government.