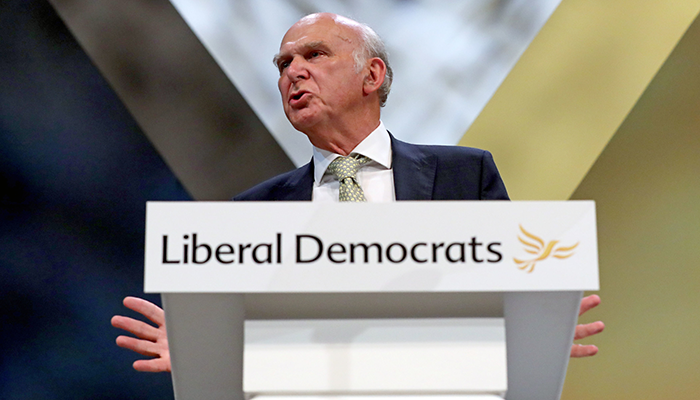 Vince Cable attacked the government's lack of spending on a range of public services, delivering his speech at the Lib Dem conference in Brighton today.
Schools were "seriously underfunded", police were being "cut back to dangerous levels and crime is rising as a consequence" and local government was being "outrageously undermined", he told the delegates.
"The public do need to be assured that their taxes are put to good use," he said.
"That is why we argue for a penny in the pound on income tax, earmarked for the NHS and social care, as a stepping stone to tax specifically set aside for the NHS."
The former cabinet minister vowed the Lib Dems would concentrate funding on the mental health crisis if the party came to power.
Cable called for a "renewed offensive" against individual and corporate tax dodging, and cited Amazon, Facebook and Google as "world-class tax-dodgers".
The leader, who became party leader after taking over from Tim Farron last year, also said that the Lib Dems want to scrap outdated business rates which he said are "destroying" high streets.
The party passed a motion which calls for the abolition of business rates and for the system to be replaced by tax on land values.
Founder of the Lib Dems Business and Entrepreneurs Network Andrew Dixon said this concept would "remove a major disincentive to investment, boosting productivity and contributing to a necessary revival in UK industry."
Over the weekend Lib Dem Brexit spokesperson Tom Brake told the conference his party would use the £3bn earmarked to help government departments cope with Brexit to regenerate towns, cities and communities in the greatest need instead.
He said the money should be used "so we can make a start on tackling the reasons why many voted Brexit in the first place."
The chancellor Philip Hammond committed the £3bn to government departments and the devolved administrations in Scotland, Wales and Northern Ireland to prepare for Brexit in the autumn Budget last year.
During the conference the party has also passed a motion calling for the government to ensure everyone has a right to affordable, safe and secure homes in England.
This motion included a commitment to build at least 50,000 new social homes for rent every year, as party of the party's commitment to build 300,000 homes a year over the next decade.
Lib Dem housing spokesperson Wera Hobhouse said: "It is long overdue [the government] made a sincere effort to create national strategy for investment in housing, rather than the piecemeal approach we have seen thus far."
A National Audit Office report from March estimated that central government funding for local government has seen a reduction of 49.1% in real terms since 2010-11.