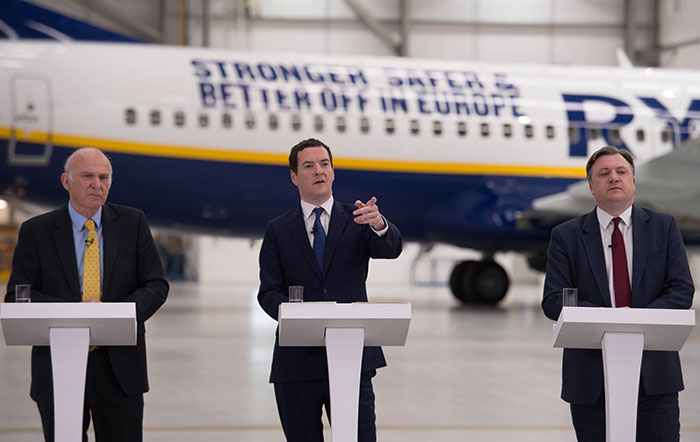 Speaking at Ryanair's new European training centre at London Stansted airport, accompanied by unlikely political bedfellows Liberal Democrat Sir Vince Cable and former Labour shadow chancellor Ed Balls, Osborne said a vote to leave would be a "one way ticket to a poorer country".
"In recent weeks the leave campaign have made clear they would be prepared to see Britain ... fall back on default World Trade Organisation rules," he said.
"This is the worst case scenario and would be a disaster for the British economy."
He highlighted Treasury analysis suggesting that, if this scenario was to materialise, after 15 years the UK would see £200bn less in trade every year in today's terms.
It would also mean £200bn less overseas investment in the UK, he added.
This would result in less infrastructure, industry, business activity and profit, Osborne continued. "It means fewer jobs, lower incomes and higher prices in shops."
He pointed to the range of people and organisations that have spoken out against Brexit and predicted damaging economic consequences if it occurs.
These include the International Monetary Fund, the OECD, Bank of England governor Mark Carney, G20 finance ministers, US president Barack Obama and a number of former US Treasury secretaries.
"Every one of our major trading partners and every major international financial institution has been unequivocal: leaving the EU would come at an economic cost," he said.
"[Leave campaigners] say its all a massive conspiracy," he continued. "It's not a conspiracy – its consensus."
Also today, the CBI issued its latest quarterly forecast, predicting slower growth for the UK's economy through 2016 and 2017 as a result of the referendum.
Carolyn Fairbairn, CBI director-general, said the chancellor's warnings on investment were coming to fruition already, as a "dark cloud of uncertainty" around the referendum's outcome, as well as weakening emerging markets, chill some firms' plans to invest.
While the chancellor has been a strong advocate of the Remain campaign since the start, he shared a platform with traditional political rivals – Cable and Balls – to deliver a cross-party message.
"Those who will pay the price if we leave the EU are the working people up and down this country; these are the people that politicians from all parties should seek to represent," he said.
"These are the people who will be stronger, safer and better off if we remain in the EU."
Did you enjoy this article?
to receive daily news from Public Finance to your inbox