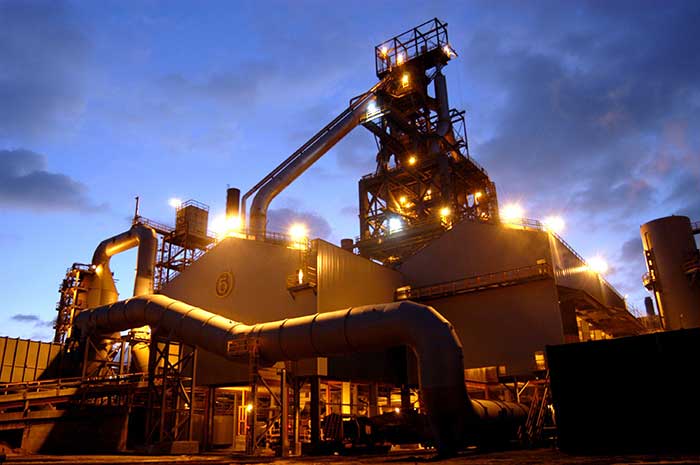 Speaking after the plant operator Tata Steel announced it would likely close the plant, which employs around 15,000 people, within weeks if a buyer could not be found, the prime minster said this was a "worrying time" for the industry.
"Our priority is to help those likely to be affected," he said. "During this process, we are committed to working with the Welsh government and Tata on a long term sustainable future for British steel making."
In a statement issued after talks with ministers, he said that the situation was "of deep concern".
"I know how important those jobs are – those jobs are vital to workers' families, vital to those communities. The government will do everything it can, working with the company, to try and secure the future of steelmaking in Port Talbot and across our country. It's a vital industry."
Asked whether he would rule out nationalisation, Cameron said he was "not ruling anything out", but added, "I won't believe nationalisation is the right answer".
Business secretary Sajid Javid added the government would look at "all viable options to keep steelmaking continuing in Port Talbot" and that the government was "very much alive to the human cost" of job losses. It has been estimated that up to 40,000 posts in total could be affected, once the impact on the supply chain is taken into account.
"We want to make sure that no worker is left behind, so where workers are affected, that we're doing everything we possibly can to help them and their families," Javid added.
"I don't think that nationalisation is going to be the solution, particularly if you take into account the big challenges the industry faces. But there are solutions to this once we understand the situation better and we want to make sure that we explore all of them."
He stated that the government believes there were buyers for the plant.
"It might require some kind of government support, and we are more than ready to look at all ways that we can provide commercial support to really secure the long-term future of steelmaking in Port Talbot."
Labour, which has called for parliament to be recalled to discuss the possible closure, today issued a four-point plan to support the plant if a buyer can be found.
This includes nationalisation to stabilise the steel industry, with the recovery plan put forward by the workforce and management then implemented. A wider review of possible government assistance, such as business rate relief, should then be undertaken, as should a review of public procurement in order to use more British steel in infrastructure projects.