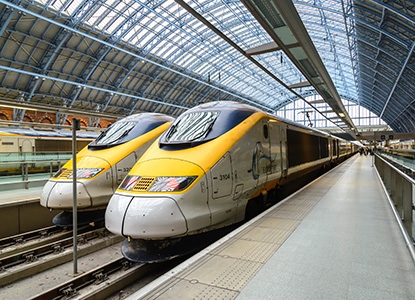 A consortium comprising Caisse de dépôt et placement du Québec (CDPQ), a Canadian institutional fund manager, and Hermes Infrastructure, a UK-based infrastructure fund, has bought the government's 40% stake for £585.1m, a price the Treasury said significantly exceeded expectations. Eurostar has also agreed to redeem the government's preference share for £172m.
Chancellor George Osborne said: 'It's great that we have reached an agreement to sell the UK's shareholding in Eurostar that delivers a fantastic deal for UK taxpayers that exceeds expectations.
'Investing in the best quality infrastructure for Britain, getting the best value for money for the taxpayer and tackling our country's debts are key parts of our long term economic plan, and in today's agreement, we are delivering on all three.'
Chief Secretary to the Treasury Danny Alexander added that there was 'no virtue' in the government owning assets it doesn't need to own.
'That's why, as part of the National Infrastructure Plan, I announced an increased target to sell commercial and financial assets worth £20bn between 2014 and 2020. This included our shareholding in Eurostar, a truly market-leading business. And this sale, at a much higher price than market expectations, is a model example of how this government is securing great value for money for taxpayers as it helps rebalance and rewire our economy.'
Bids for the Eurostar stake were invited last October as part of the government's asset-sale plans. Closure of the deal is expected to take part in the second quarter of this year, although the remaining Eurostar shareholders – French rail operator SNCF and Belgian rail operator SNCB – have the right to acquire the stake at a 15% premium to the agreed sale price.
Macky Tall, CDPQ's senior vice president for private equity and infrastructure said, it was investing in one of Europe's most efficient transport systems.
'Alongside leading industry players, we are becoming partners of a highly strategic asset that will generate stable and predictable returns for our clients.
'This major investment is another opportunity for us to further build on our expertise in the transport sector, while broadening our footprint in the global marketplace. In terms of reliability and satisfaction, Eurostar is state-of-the-art and among the most enviable worldwide. It serves as a model for operational efficiency and we intend to be a partner in its growth for many years to come.'
Peter Hofbauer, head of Hermes Infrastructure, added: 'Eurostar is a high-quality asset providing a direct link between the UK and Europe that has historically offered attractive investment characteristics, including long-term stable and predictable cash flows. We look forward to creating a long-term partnership with SNCF and SNCB and other key stakeholders in relation to this important investment.'
However, the RMT union condemned the sale as a 'pre-election betrayal'.
'The French and Belgians think we are insane knocking off such a valuable and strategic infrastructure asset,' said general secretary Mick Cash.