By Richard Johnstone | 4 December 2013
The Treasury has doubled its target for receipts from the government's privatisation programme to £20bn by 2020, with the taxpayer stake in Eurostar among the assets now likely to be sold.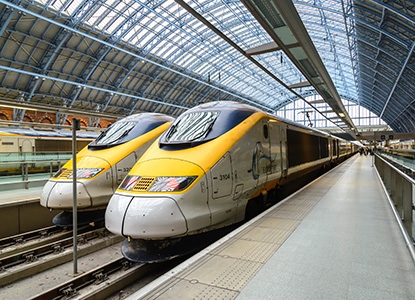 Updating the National Infrastructure Plan as part of the Autumn Statement, Chief Secretary to the Treasury Danny Alexander indicted that many state-owned assets would be better managed in the private sector.
Earlier this year, the government privatised the Royal Mail and sold the first tranche of shares from the taxpayer stake in Lloyds Banking Group. In total, the coalition had raised more than £11bn in asset sales since May 2010, Alexander said.
Alongside the sale of the government's 40% stake in the Eurostar cross-channel train operator, ministers now plan to raise around £12bn from the sale of part of the student loan book by 2020. The NIP also stated that it would also at options to bring private capital into the Green Investment Bank.
Further privatisations will be examined as part of an informal government consultation to identify the areas where private sector participation in public services should be considered. 
Also today, Alexander announced that insurance firms have committed to invest £25bn in capital projects across the UK over the next five years, covering energy, transport, flood defence, waste, water and communications infrastructure.
Six major insurers ¬– Prudential, Aviva, Legal & General, Standard Life, Friends Life and Scottish Widows – made the commitment following negotiations with the Treasury and the Association of British Insurers. 
Alexander said the investment pot was 'a massive vote of confidence in the UK economy'. 
He added: 'It supports the wider £100bn public investment to rebuild Britain over the next seven years that I announced at the Spending Round [in June]. 'This is great news for the people of the UK because, after years of neglect, the UK's energy, road, rail, flood defence, communications and water infrastructure needs renewal. It will boost the UK economy, creating jobs and making it easier to do business. It will also make the UK a better place to live for everyone who calls it their home.'
Otto Thoresen, the director general of the Association of British Insurers, added: 'Insurers have a key role to play in contributing to the UK's economic growth, as providers of long-term capital investment. Providing capital for infrastructure projects will help drive a competitive, healthy and resilient UK economy.'
Today's revised NIP contains 646 projects worth a total of £375bn, which are to be delivered by both the public and private sector. The document confirmed government backing for the Greater London Authority's plan to borrow £1bn to extend the London Underground Northern Line to Battersea and Nine Elms.