By Mark Smulian | 13 October 2014
Bids are being sought for the government's shareholding in the Eurostar cross-Channel train service as part of government plans to raise as much as £20bn in state asset sales by 2020.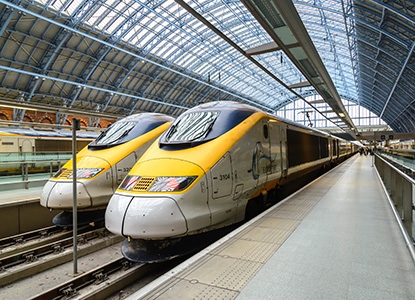 Eurostar is majority owned by the French state railway SNCF, which has a 55% holding.
The UK government holds a 40% stake with Belgian state rail operator SNCB having 5%.
Osborne said in the 2013 autumn statement that Eurostar was among corporate and financial asset sales from which he hoped to raise £20bn by 2020. Bidders now have until October 31 to express an interest.
Eurostar runs services from London to Paris and Brussels, with occasional journeys also to Disneyland Paris, Avignon and the French Alps.
In July, it reported a 2% increase in passenger numbers for the first half of 2014 to 5 million, with sales revenue up by 0.5% to £456m.
A bidding document from banker UBS has stated that Eurostar's passenger numbers and revenue have increased each year since the service's inception in 1994, reaching £10.1m and £857m respectively in 2013.
It lists among potential growth opportunities expected new services to Amsterdam and Lyon, and planned rolling stock investment to increase capacity by 20%.
However, the RMT trade union general secretary Mick Cash criticised the proposed sale as 'a gross act of betrayal of the British people'.
He added: 'The French and Belgians think we are insane knocking off such a valuable and strategic infrastructure asset.'