By Mark Smulian | 9 October 2014
Local government trade unions have suspended strike action planned for next Tuesday following a revised pay proposal from the Local Government Association.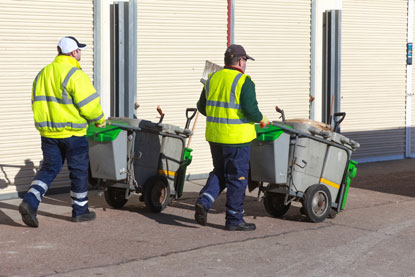 Council workers belonging to the Unison, Unite and GMB unions had been due to walk out on October 14, but a joint statement by the three unions said they would consult members on what they described as 'the best achievable by negotiation'.
An LGA statement welcomed the decision to call off the strike and said its proposal would cover the period from January 1 2015 through to March 31 2016. Its key features are a 2.2% increase on local government pay grades, known as spinal column points, 11 and above. This is the equivalent of £14,880 a year and over.
There would be higher increases from SCP 5-10 giving a new minimum hourly rate at SCP5 of £7, rising on October 1 2015 to £7.06 per hour by the deletion of SCP5.
Non-consolidated lump sum payments of between £100 and £325 would be made on all SCPs.
This followed a meeting on October 2 at which the unions said they received a 'fairly positive' response from the LGA to their call for a higher pay offer.
Unions have sought a minimum increase of £1.20 an hour to ensure that all council workers were paid at least the minimum wage.
Unison head of local government Heather Wakefield said: 'These have been tough negotiations, in a tough financial climate for local government and our members.
'It is right that those members - who are keeping councils and schools going in tough conditions - will now have the chance to make their voice heard by voting on the LGA's proposals.'
Brian Strutton, GMB national secretary for public services, said: 'It has proved extremely difficult to persuade the local government employers to agree new pay proposals for us to consult our members on. 
'But now we have an agreed set of new proposals which we will consult on and while doing that GMB is suspending the strike planned for October 14.'
Council staff walked out on 19 July over a 1% pay offer from the LGA.
A revised 2.2% proposal covering 15 months from 1 January was made and rejected last month by Unison, although the other two unions would have been willing to put it before members.
Meanwhile, Unison local government members in Scotland are to take industrial action this month after a 53.5% 'yes' vote in their ballot over the imposition of a 1% pay increase by employers.
Scotland has not been involved in the earlier disputes as it has separate negotiations.
Unison regional officer for local government Douglas Black said: 'We will be running a programme of action, which will affect every area of Scotland. We do not take decisions like this lightly.'