By Richard Johnstone | 19 May 2014
The GMB trade union has announced it will ballot members in councils and schools on planned strike action for July 10 after rejecting the Local Government Association's offer of a 1% pay increase for most workers.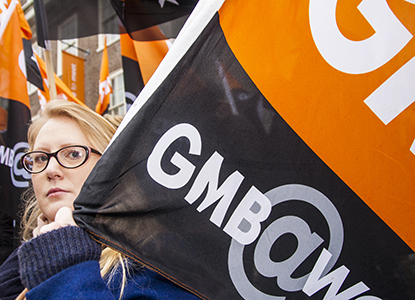 Brian Strutton, the union's national secretary for public services, announced on Friday that, in a consultation exercise, 83% of members had rejected the LGA's offer, which would include some higher increases for the lowest paid.
He said members across councils and schools had said 'loud and clear' in the consultation that they would not support the offer. The union is the third in the sector to announce a strike ballot, following both Unison and Unite.
Strutton said the ballot would be held next month.
Members have had enough of years of pay freezes and 1% pay offers that had led to pay in the sector falling by 18% in real terms since 2010, he said.
'Council staff have had only a 1% pay rise in the last five years and it is a terrible indictment that the National Minimum Wage has caught up with them. 'It's scandalous to think that people who work for councils could not legally be paid any less, yet day in and day out they serve their communities in schools and academies, care homes, emptying bins and cleaning streets, protecting vulnerable children and all the other jobs they do.'
Although Strutton acknowledged local authorities had faced government budget cuts, he also highlighted many had accepted council tax freeze grants and also increased their level of reserves since 2010. 
'Industrial action is not our members' preference but faced with years pay freezes, low pay, cuts and job losses they are saying enough is enough.'