By Richard Johnstone in Glasgow | 7 October 2014
Deputy Prime Minister Nick Clegg has called for the reopening of the railway between Oxford and Cambridge to connect as many as five garden cities and boost housebuilding.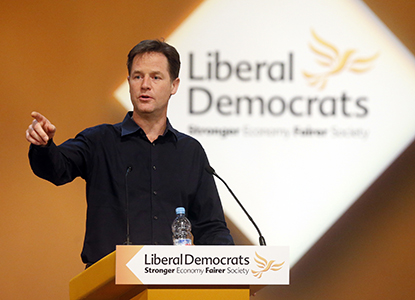 Clegg said that the former Varsity Line should be reconstructed so that as many as 50,000 new homes could be built along its route.
Plans to reinstate the link, known as East West Rail, have already been developed by a consortium of local authorities and businesses. Clegg said that the route could help tackle Britain's housing crisis by catalysing development.
'Housebuilding is stuck in the doldrums, with nowhere near enough homes being built to meet demand and keep prices affordable for those families desperate for a home of their own,' he said.
'Garden cities are a vital cornerstone of our plan to boost house building to 300,000 homes a year – enough to meet demand and keep prices in reach – while still protecting our precious green space and preventing urban sprawl.
'Our plan is to build a series of high quality new towns and cities where people want to live, with green space, sustainable transport and spacious homes.'
Clegg said that in coalition, the Conservatives had held back developing Garden Cities on the scale necessary.
However, if the LibDems formed part of the government after next May's general election, they would ensure at least ten get underway. As many as five developments could be sited along the 'Garden Cities Railway', he said.
'We will encourage the towns along the route to come forward with plans for this scale of development with clear benefits for existing residents, such as service improvement like "express stations" with higher frequency rail services.'