By Richard Johnstone | 6 January 2014
Chancellor George Osborne today set out plans to cut an extra £25bn from public spending by the end of 2017/18 if the Conservatives win the next election, with welfare emerging as the main target for reductions.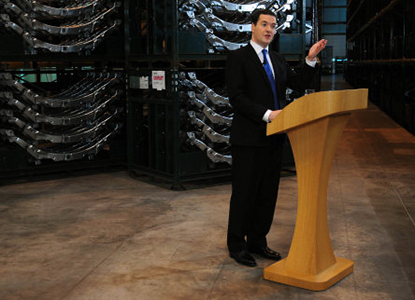 In a speech in Birmingham, the chancellor warned that the state would have to be 'permanently smaller' in the future to ensure long-term stability in the economy. It marks the first time Osborne has set out the cash cuts required across the first half of the next parliament. 
Recovery from the economic crisis was a job 'not even half done'. He said: 'If 2014 is a year of hard truths for our country, then it starts with this one: Britain should never return to the levels of spending of the last government.
'We'd either have to return borrowing to the dangerous levels that threatened our stability, or we'd have to raise taxes so much we'd put our country out of business. Government is going to have to be permanently smaller – and so too is the welfare system.'
The government was still borrowing £100bn a year, and more than £60bn of cuts still to be made, Osborne said. On top of the £17bn of cuts planned for the coming financial year and the £20bn slated for 2015/16, £25bn more will need to be cut in the following two years, he said.
Osborne confirmed that MPs would be asked to vote on these plans later this year to ensure that the UK's commitment to economic stability was 'entrenched' and the country would 'finish the job' of spending reductions. He has previously stated he wants to run a cash surplus by 2018/19. 
The Treasury has forecast that £12bn of welfare reductions will need to be made in the first two years of next Parliament, the chancellor added. This would allow the overall savings target to be met without any need for tax rises, he indicated.
'The truth is there are no easy options here, and if we are to fix our country's problems, and not leave our debts to our children to pay off, then cutting the welfare bill further is the kind of decision we need to make.'
Responding to the speech, Labour's shadow chief secretary to the Treasury Chris Leslie said Osborne should 'admit his policies have failed and led to a cost-of-living crisis'.
He added: 'The reason more spending cuts are needed after 2015 is because his failure on growth and living standards since 2010 has led to his failure to balance the books.
'What we need is Labour's plan to earn our way to higher living standards for all, tackle the cost-of-living crisis and get the deficit down in a fairer way.'