By Richard Johnstone in Manchester | 30 September 2013
Chancellor George Osborne has set out plans for a new fiscal rule to achieve a surplus in the public finances by 2020.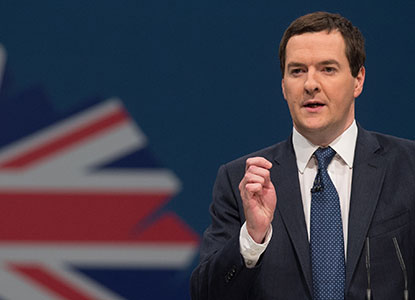 Addressing the Conservative Party conference in Manchester today, Osborne announced the principles that would underpin government spending under the next Conservative government. Chief among these was a new target to achieve an absolute budget surplus in the next Parliament, which runs from 2015 to 2020. 
The coalition government's existing target is to balance the amount it borrows for current spending over a five-year period, adjusted for the stage in the economic cycle. The government is currently expected to achieve a cyclically adjusted current balance in 2018.
Osborne told conference delegates that a updated target was therefore needed to 'fix the roof when the sun is shining'.
He said a surplus across all government spending could be delivered by controlling day-to-day funding of services and capping welfare. This would also 'lay the foundations for sustainably lower taxes', he added.
'Surely the lesson of the last decade is that it's not enough to clean up the mess after it's happened. You've got to take action before it happens,' said Osborne. 
'It should be obvious to anyone that in the years running up to the crash this country should have been running a budget surplus.
'So I can tell you today that when we've dealt with Labour's deficit, we will have a surplus in good times as insurance against difficult times ahead. Provided the recovery is sustained, our goal is to achieve that surplus in the next Parliament.'
Osborne said the alternative was 'to run a deficit for ever'. Fiscal discipline was needed to protect public services like healthcare and pensions.
 Sources close to the chancellor said this commitment, if it is adopted by the next administration, would not require any additional cuts to overall government spending. However, it would need 'long-term control' of spending once the current rule has been met.
The chancellor also backed the planned High Speed 2 rail line as he announced a second rule would commit a Conservative government to increase capital spending at least in line with growth in gross domestic product.
'We want to go on investing in the essential infrastructure of our country – the roads and railways and science and communications that are the backbone of the future economy,' he said
'These principles will form the foundation of our public finance policy and I will set out the details next year.'
Osborne also confirmed the government would launch a new back-to-work scheme intended to help the long-term unemployed find jobs. The 'Help to Work' programme will see those who have completed two years in the government's flagship Work Programme but still not found employment undertaking some work for benefits.
All long-term unemployed people who are capable of work could be required make meals for the elderly, clear up litter or work for a local charity when the scheme is introduced next April. Some claimants would also be made to attend the job centre every working day. This was needed to ensure that the welfare system was 'fair to those who need it and fair to those who pay for it too', Osborne said. 
'No one will be ignored or left without help. But no one will get something for nothing.'
However, responding to the announcement, the Institute for Public Policy Research said the new back-to-work programme was likely to end up affecting less than one in twenty of jobseeker's allowance claims.
IPPR research director Graeme Cooke said there was 'nothing wrong in principle' with expecting the long-term unemployed to undertake work experience or a more intensive job search. 
He added: 'The key issue is how such schemes are designed. If they give people real experience of work and the practical employability habits that go with it, they can help people be more attractive to prospective employers. But if it is pitched as a punishment where people do menial tasks, it risks acting as a signal to employers that these are people not to employ.'