By Richard Johnstone | 22 April 2014
Chancellor George Osborne today said the 'tough decisions' taken to cut government spending since 2010 have allowed the Treasury to prioritise infrastructure investments to boost growth.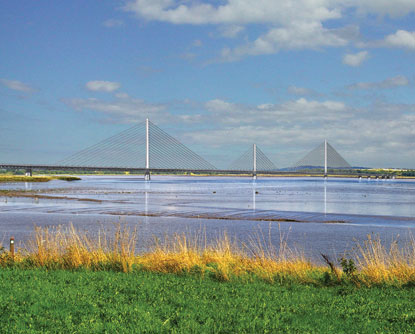 Speaking as the Treasury published an updated list of major infrastructure projects set to be either completed or started in 2014/15, Osborne said the planned developments would prioritise public spending where it was most needed.
The £36bn slate of more than 200 projects published today includes the start of construction of the Mersey Gateway Bridge, as well as the first stage of 11 other major road schemes.
Among the projects to be concluded this year are improvements to the M25 and M6 motorways, upgrades to both Birmingham and London Stansted airports, and the extension of the tram system in Nottingham.
According to Treasury figures, public sector investment in the range of schemes stands at £5bn, with £21bn from private sources and £10bn in joint public and private investments.
Osborne said the full range of projects would support more than 150,000 construction jobs.
'As part of our long-term economic plan we are investing in infrastructure around the country to create a more balanced, resilient economy,' he said.
'Because of the tough decisions we have taken in day-to-day spending, we can prioritise public investment where it is most needed and create the right conditions for private investment in infrastructure where it brings value for the taxpayer.'
Responding to the announcement, Labour's shadow chief secretary to the Treasury Chris Leslie said the government needed to do more to ensure that the economic recovery was 'built to last'.
He added: 'Under David Cameron and George Osborne, despite multiple infrastructure plans and reheated announcements like today's, infrastructure output in the economy is down more than 10%.
'The government's overall infrastructure pipeline in December showed fewer than a quarter of projects "in construction". Investors need certainty and delivery, not just another load of warm words.'