By Richard Johnstone | 17 February 2014
The government has created a new £10m fund to support businesses affected by the ongoing floods across England as part of the continuing relief effort.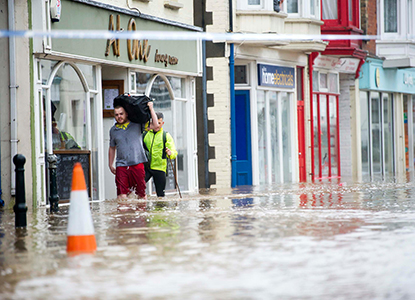 Prime Minister David Cameron announced today that the scheme would help small- and medium-sized firms that face hardship following the heavy storms that have hit the country since December.
Businesses that have been flooded and those in affected areas that have suffered significant loss of trade will be able to apply for money. Eligible businesses will be able to claim for funding for things like clean-up costs, materials and exceptional costs to help them continue trading.
The action is the latest step the government has taken to tackle the impact of the floods. Last week, Cameron announced that companies in affected areas would be given business rate relief for three months, while Local Government Secretary Eric Pickles announced councils would be able to claim 100% of flood clean-up costs under an expanded Bellwin scheme.
Launching the latest initiative, Cameron said the government was taking action to deal with the clear up and help those affected by the floods. 
'Today I am announcing further support for businesses hit to help them get back on their feet,' he added. 
'Dealing with these floods will be a long haul, requiring a stepped-up national effort with the whole country pulling together. We will continue to help the people who need help and protect the communities that need protecting.'
The scheme will be funded by the Department for Business, Innovation and Skills but administered by local councils. Funds will be allocated to authorities on Thursday, based on an assessment of the number of businesses affected.
Authorities will then having discretion over the maximum payments to individual businesses, although Whitehall guidance stated that equivalent schemes in the past had average claims of £2,500 per business. In addition, town halls will need to work closely with businesses to ensure that support through the scheme does not duplicate that provided by insurance cover.
Business Secretary Vince Cable added it was vital that small businesses affected by the flooding get assistance as quickly as possible. 
'We know the insurance companies are working to process claims as quickly as possible and we will inform local authorities of their allocations from the Business Support Scheme on Thursday to assist businesses with clean-up costs or help them to continue trading.
'I encourage all businesses affected by flooding to get in touch with their local authority or contact the Business Support Helpline, where our team of advisers will be able to direct people to a wide range of practical help and advice.'