By Richard Johnstone | 30 November 2012
Chief secretary to the Treasury Danny Alexander has announced that the government will provide an extra £120m of funding for flood defences following the heavy rainfall across England and Wales in the last week.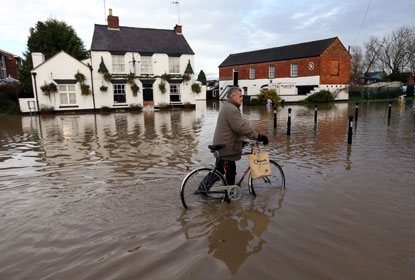 Speaking in Leeds today, Alexander said that damage caused by flooding across the country had been 'devastating'.


The additional funding will be split between two spending priorities. Half will go on the delivery of around 50 flood defence schemes already prioritised by the Environment Agency, and the other half will be spent on providing new infrastructure to unlock areas at risk of flooding for development.
In total, the funding would help to protect up to 60,000 homes and deliver up to £1bn of economic benefits, Alexander told a conference on Northern economic renewal, held by the Institute for Public Policy Research North.
He said that projects in Leeds, Derby, Exeter, Sheffield and Ipswich could benefit from new flood defences.
The additional cash is on top of more than £2bn that has already been earmarked to tackle flood and coastal erosion risks over the course of the Comprehensive Spending Review period to March 2015.
Alexander said: 'This £120m boost to flood defences will accelerate improved flood protection for up to 60,000 homes and deliver much needed help to flood-threatened businesses across the country.
'£60m of this will be set aside to help areas where the schemes will particularly support growth.'
Following the announcement, Environment Secretary Owen Paterson said the investment meant that funding for flood defences was 'higher than ever before'.
The additional funding will be phased over two years, with £35m made available in 2013/14, and £85m in 2014/15.
Further details on funding should be set out in next week's Autumn Statement, with allocations confirmed to specific schemes early in the New Year.