By Richard Johnstone | 6 February 2013
Public sector job losses are set to be 300,000 higher by the end of 2017/18 than currently predicted, according to the Institute for Fiscal Studies' annual analysis of the government's spending plans.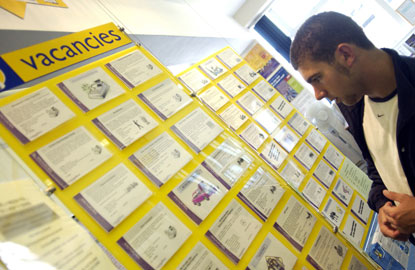 Today's Green Budget found that, under the coalition's deficit reduction plan, Whitehall departments were cutting pay bills quicker than any other kind of spending.
This means that the Office for Budget Responsibility's projection of job losses is likely to be exceeded. The OBR has forecast that employment across central and local government would fall by 900,000 between 2010/11 and 2017/18 as a result of cuts.
However, the IFS found that Whitehall departments were cutting jobs faster than the OBR expected. Between 2010 and 2012, the number of people employed in the public sector fell by 300,000, or 5% of the overall workforce.
If jobs continued to be cut at this rate beyond 2014/15, public sector employment would be 1.2 million lower by March 2018. For the OBR's projection of job losses to be correct, the trend would have to 'unwind quite sharply', the IFS said.
But it was more likely that the OBR's estimate was 'relatively low ', the report added. 'In fact the change in employment levels may be more likely to be in the order of 1.1 million to 1.2 million.'
The IFS has also concluded that Chancellor George Osborne was likely to borrow more money in the current financial year than in 2011/12.
Last year, public sector net borrowing was £121.4bn. The report said it was likely this would be exceeded by £4bn in 2012/13, if changes such as the transfer of the excess cash from the Bank of England's quantitative easing programme to the Treasury were excluded. Borrowing was likely to total £125.4bn in 2012/13, around £4.9bn higher than the OBR's forecast.
Borrowing was also set to be higher in future years. The IFS estimated it would be £64bn higher in 2014/15 than first forecast by the OBR in November 2010.
This was because Osborne had chosen not to offset a forecast deterioration of £65bn in the public finances following the double-dip recession and slow economic growth projections.
IFS director Paul Johnson said the government had followed a 'dual strategy' as economic performance and forecasts had worsened. Osborne had allowed borrowing to increase substantially, through the use of so-called 'automatic stabilisers' such as unemployment benefits, while promising further public spending cuts in the next Parliament from April 2015.
On current forecasts, average departmental revenue spending would fall by 18.6% between 2010/11 and 2017/18. When departments with protected spending – health, education and international development – are removed, some departments face a cut of 33.2% over the same period.

However, concentrating cuts on unprotected areas of public service spending looked 'hard to contemplate,' Johnson added. 'A more likely scenario perhaps is that other choices will be made after the next election. Taxes could rise, hitherto protected elements of public spending, like the NHS and pensions, could be hit, or the date at which we reach fiscal balance will be pushed further out.'
The report also warned that localisation of Council Tax Benefit could undermine the government's Universal Credit reform.
It said the Universal Credit represented a 'welcome simplification' and looked 'to be part of a well thought out and coherent strategy'. However, other changes – 'such as the localisation of Council Tax Benefit' – did not.
'Further efforts to reduce spending would require a much clearer strategy if both the welfare of claimants and their incentives to work and to save are not to be adversely affected more than necessary,' it said.
The government will publish the Budget for 2013/14 on March 20.