By Richard Johnstone in Manchester | 2 October 2013
Prime Minister David Cameron has warned that the 'crisis' in the public finances caused by the government's deficit is not over, and he indicated further cuts to spending will be needed.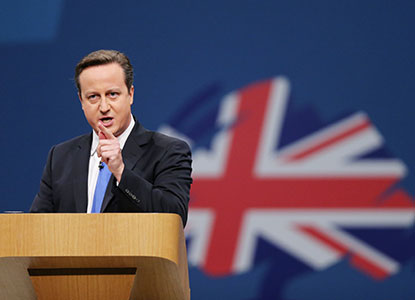 In his speech to close the Conservative party conference in Manchester, Cameron said the coalition government had faced a 'crisis point' when it took office in 2010 due to the level of government borrowing. Although the economy is now 'beginning to turn the corner' and the country was on our way to recovery, that was not over.
He highlighted the government was still set to borrow £119.8bn in the current financial year, according to projections from the Office for Budget Responsibility.
'After three years of cuts, we still have one of the biggest deficits in the world. We are still spending more than we earn. We still need to earn more and, yes, our government still needs to spend less.'
Cameron said 'finishing the job' of economic recovery involved 'sticking to our course until we've paid off all of Labour's deficit, not just some of it'.
He also backed plans announced by Chancellor George Osborne on Monday for the government to plan to take in more in taxes than it spends by the end of the next Parliament in 2020. 'Let's run a surplus so that this time we fix the roof when the sun is shining,' he said.
Cameron also said the Conservative party wanted to 'build a land of opportunity' across the UK as the economy recovers.
The 'struggle' of what he called 'those necessary cuts' will be worth it when there is 'something better in place', the prime minister told delegates.
'In place of the casino economy, one where people who work hard can actually get on. In place of the welfare society, one where no individual is written off. In place of the broken education system, one that gives every child the chance to rise up and succeed.
'Our economy, our society, welfare, schools, all reformed, all rebuilt – with one aim, one mission in mind: to make this country, at long last and for the first time ever, a land of opportunity for all.'
One necessary change was further benefit reform so that no young people were 'stuck on welfare'.
It was still possible for people to leave school and 'opt for a life on benefits', Cameron said. The Conservatives would propose 'bold action' to end this in the party's next manifesto, including the possibility that everyone under 25 should be required to be 'earning or learning', and not eligible to receive some benefits.
'We should give young people a clear, positive choice. Go to school. Go to college. Do an apprenticeship. Get a job.
'But just choose the dole? We've got to offer them something better than that.'
Responding to the speech, the Child Poverty Action Group, said that there was no recognition from Cameron that people sometimes need benefits because they lose their jobs or leave work because of disability, illness, or to care for others.
Chief executive Alison Garnham added: 'The focus on opportunity is right and welcome but the big flaw in the speech is that you can't build a land of opportunity for all on the ruins of a million more children living in poverty – poverty is the enemy of opportunity.
'Building a land of opportunity means helping families get decent, secure jobs, universal childcare, affordable housing and state support which keeps children out of poverty.'