By Richard Johnstone | 10 October 2012
The UK could decline if the government doesn't stick to its 'difficult' deficit reduction plan, Prime Minister David Cameron warned today.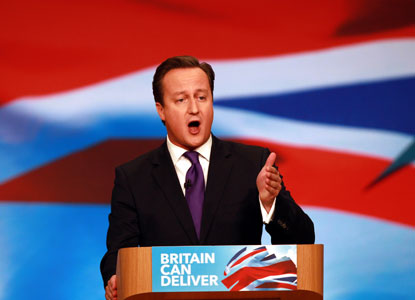 In his speech to the Conservative Party conference, Cameron said the country faced an 'hour of reckoning' due to increased competition from across the world.

'Unless we act, unless we take difficult, painful decisions, unless we show determination and imagination, Britain may not be in the future what it has been in the past,' he stated. 'The truth is this, we are in a global race today and that means an hour of reckoning for countries like ours. Sink or swim, do or decline.'
The coalition government's economic plan was 'essential' to increase growth in the economy, he told delegates, but admitted 'it's taking longer than we hoped' in 'difficult times'.
The speech came after the International Monetary Fund predicted yesterday that the UK economy would contract by 0.4% in 2012.
However, Cameron said the 'deficit reduction plan is not an alternative to a growth plan: it's the very foundation of our growth plan'.

He added: 'It's the only way we'll get Britain on the rise,' rejecting calls from the Labour Party for a 'Plan B' to boost the economy. Any change to the deficit reduction plan would be 'a massive gamble with our economy and our future', he warned, and could lead to the Treasury paying higher interest rates to borrow money.

The government's plan to 'get the private sector bigger and the public sector smaller' was 'the best way to create the sustainable jobs people need'.
He also defended the government's welfare reforms, which include the introduction of the Universal Credit and a cap on total benefits that can be received by a single family.
This would help people get out of poverty through work. 'Let me put it simply: welfare isn't working, and this is a tragedy,' he said.
'What are hard-working people who travel long distances to get into work and pay their taxes meant to think when they see families – individual families – getting £40,000, £50,000, £60,000 of Housing Benefit to live in homes that these they could never afford themselves?'
The coming cap on Housing Benefit would end this, Cameron said, and he reiterated
Chancellor George Osborne's indication
from earlier this week that it could be removed entirely from young people.
'We're going to look at ending automatic access to Housing Benefit for people under 25 too. If hard-working young people have to live at home while they work and save, why should it be any different for those who don't?'
Responding to the speech, trade union Unite said Cameron had resorted to 'the politics of fear'.
General secretary Len McCluskey said: 'David Cameron says that we must "sink or swim" as a country – yet he has cut the life belt for the millions of Britons struggling to find work and juggling to make ends meet with squeezed household incomes.'