By Richard Johnstone | 12 September 2013
A series of infrastructure projects intended to boost economic growth have been given the go-ahead in Preston after the city agreed the first of the second round of City Deals with government ministers today.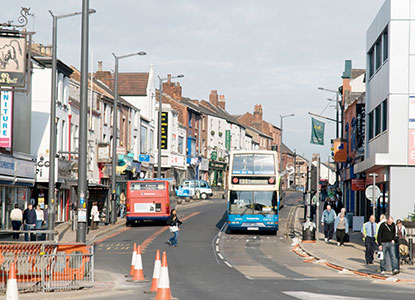 The pact, signed between Whitehall and Preston City Council, South Ribble Borough Council and Lancashire County Council, will allow four new road schemes to go ahead, opening up land for more than 17,000 new homes to be built. The projects should create more than 20,000 jobs.
The deal has been reached after negotiations between the authorities and the government over several months. It is the first of the 20 areas to have agreed the second round deals since discussions began last October, after an initial phase with the eight core cities in England.
Under the plans, roads around the Lancashire's Enterprise Zone will also be upgraded. These are located to the east and west of Preston and are currently constrained by poor connections.
The schemes form part of an infrastructure delivery programme and investment fund worth a combined total of £434m, which is expected to leverage a further £2.3bn of commercial investment in housing and business sites. The fund also contains a £100m allocation from the Lancashire Pension Fund, which will be invested on a commercial basis in housing and development schemes in the City Deal area.
Announcing the deal, Deputy Prime Minister Nick Clegg said: 'The Northwest has seen strong economic growth in recent years, so this deal with government means that hard-working families can have the jobs and homes they need to get on in life.
'It puts more power in the hands of local people so that they can choose where the big investments are made. This is a fair way for government to support cities as they grow and I hope many more cities will follow Preston and Lancashire's lead.'
Cities minister Greg Clark added that the coalition was committed to 'unlocking the full growth potential of our cities'.
He added: 'Powerful, innovative cities, empowered to shape their own economic destinies, will be able to get the national economy growing.
'This deal will be crucial in helping Preston and Lancashire attract outside investment with new transport links, housing and employment sites dramatically improving the growth potential of the entire region.'
Peter Rankin, leader of Preston City Council, said the City Deal would 'grow the local economy by nearly £1bn over the next ten years'.
He added: 'With [this] City Deal we can now fast track over 25 years of development into less than 10.
'Preston has always had the potential, but now it has the chance to become a major engine of economic growth.'
The Lancashire Local Enterprise Partnership will be responsible for ensuring that the programme is delivered.

Edwin Booth, chair of the LEP, said that reaching the deal 'is a real demonstration of central government's confidence in our economic potential'.
He added: 'The deal enables us to build the infrastructure that Preston needs, which will really take the brakes off economic growth in the city and the surrounding area, to continue to create the prosperity and jobs we need.'