By Richard Johnstone | 14 August 2012
Councils could be forced to reopen planning agreements made with house builders if deals agreed before the economic downturn are holding up developments, Local Government Secretary Eric Pickles has announced.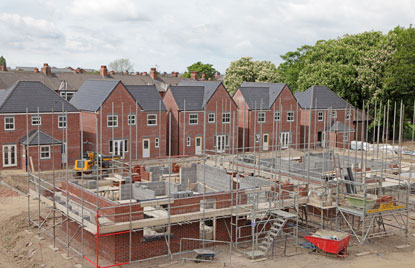 Launching a consultation on the plans yesterday, Pickles said the government was concerned that work was stalling on some sites because developers could no longer afford 'economically unrealistic agreements', such as funding infrastructure.
He said work had stopped on some 1,400 housing schemes as a result.


Developers are often granted planning permission by councils in return for a community gains, such as investment in roads, parks and street lighting. Known as Section 106 deals, these agreements cannot be reopened for five years unless the council wishes to.
Under Pickles' plans, developers will be able to force town halls to renegotiate deals agreed before April 2010.

In addition, a team of negotiators will be sent into ten authorities to attempt to agree new terms between town halls and developers. The intermediaries will offer free advice and support to both sides to 'kick start' renegotiations on deals seen as a barrier to building.
There is 'huge potential in mothballed sites to boost local economies and help boost house building', Pickles said.
'We simply cannot afford to have them lying idle because of earlier agreements that are no longer viable.
'The support and advice the expert brokers will offer is one of the many measures we have introduced to get development under way and I hope councils grab this chance to make use of the support we are offering.'
Any renegotiations of Section 106 agreements would not remove a developer's obligation to contribute to offset the effects of the development, but deals need to be 'realistic and deliverable', the consultation stated.
The move comes after local planning authorities were asked to review their existing agreements in March.
In June, the Local Government Association urged the government not to allow developers to reopen the commitments, and the group today warned the government's proposals could 'undermine trust in the planning process'.

Responding to the consultation, Mike Jones, chair of the LGA's environment board, said councils were working hard to find ways of getting projects under way, including looking again at Section 106 agreements where appropriate.

However, he said 'negotiating away' such commitments was 'not the answer' in most cases, when projects had stalled due to the difficulty in financing schemes and the limited availability of mortgages.

'These agreements ensure developers provide vital infrastructure for local communities, from roads and street lighting to parks and community centres,' he said.
'Renegotiating away contributions that benefit local residents and businesses could prove hugely counterproductive as it is likely to undermine trust in the planning process and increase public opposition towards new development.'
The consultation runs until October 8.