By Richard Johnstone in Manchester | 4 July 2013
The government has selected 18 councils to develop Community Budget-style pooled spending, Local Government Secretary Eric Pickles has announced.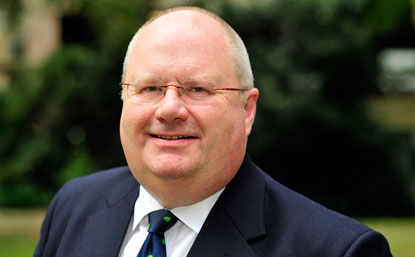 In his speech to the Local Government Association conference in Manchester yesterday, he revealed that the 18 councils across nine areas would be given support from the government's new Public Services Transformation Network to develop 'practical reforms' to local services.
The move follows Chancellor George Osborne's Budget pledge to build on the success of the four Community Budget pilots, which tested 'whole-place' pooled spending on particular local services.
Local government minister Brandon Lewis followed this up by setting out plans for a new 'multi-agency ­network' to share learning from the pilots, calling for councils to submit expressions of interest to join the network.
Among the authorities chosen are Bath and North East Somerset Council, Hampshire and Surrey councils and Sheffield City Council. A total of nine London boroughs have also been selected, in two geographical groupings.
The network will be made up of experts drawn from the public and private sectors. They will provide a direct link between government departments, councils and local places and help develop plans similar to those used by the pilot schemes. It will be a 'rolling programme' .
Pickles said yesterday that the pilot schemes had 'only just dipped our toes in the waters of the possible'. He highlighted LGA research indicating that the approach could save between £9bn and £20bn in five years if introduced nationwide.
He added: 'So we are now expanding this in many more directions. Our Public Transformation Network will spread the opportunities created by Community Budgets around the country, leading to more joint working and shared services.'
The Department for Communities and Local Government said that there had been more than 40 expressions of interests, covering more than 60 local authorities, since the scheme had been announced. A further announcement about additional places receiving intensive support will be made in due course as part of the rolling programme, the department added.
The original four 'whole place' Community Budget pilots – Cheshire West & Chester council; the Greater Manchester combined authority; the west London tri-borough project; and Essex – developed plans to pool spending and reform services with civil servants. After approval from government, these are now being implemented.
The full list of authorites is:
            •            Bath and North East Somerset;
            •            Bournemouth, Poole and Dorset;
            •            Hampshire;
            •            Lewisham, Lambeth and Southwark;
            •            Sheffield;
            •            Surrey;
            •            Swindon;
            •            the West London Alliance (Barnet, Brent, Ealing, Harrow, Hillingdon and Hounslow)
            •            Wirral