By Richard Johnstone | 16 July 2012
Transport Secretary Justine Greening today outlined plans for £4.2bn of new investment in Britain's railways, including the extension of electrification across the network.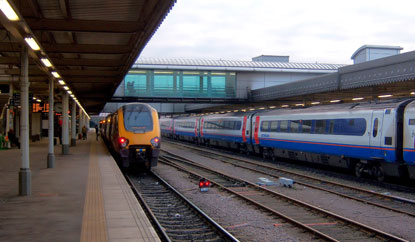 Greening published the government's determination of what it will ask track manager Network Rail to do in the five years from April 2014. It also includes proposals to increase capacity around cities in England. This requirement, known as the High Level Output Statement, is accompanied by a Statement of Funds Available, which sets out how much public money is available.


In total, £9.4bn of improvements will be made to the railway by March 2019 if schemes already under way, such as Crossrail and Thameslink in London, are included, Greening said.
Electrification is to be extended across more of the country. The Midland mainline, which runs between London and Sheffield, will be electrified to create an 'electric spine' running from Yorkshire and the West Midlands to south coast ports, cutting journey times and boosting rail capacity.
The government had already confirmed that the line between London and Cardiff would be electrified, and today said this will be continued from Cardiff to Swansea. This shall complete the electrification of the Great Western mainline out of London Paddington.
The programme also includes upgrades to stations and tracks to create extra rail capacity around cities, creating an additional 140,000 train seats for daily commutes across England. This includes the full 'Northern Hub' cluster of rail enhancements, at a total cost of nearly £800m, around both Manchester and Liverpool.
Greening said that the HLOS package will be funded in part from the 3% above-inflation fare rises scheduled for the next two years, and also from 'substantial efficiency savings'.
She added: 'These plans to increase capacity and shorten journey times on intercity, commuter and freight services are, alongside our plans for high speed rail, absolutely key to securing our country's prosperity in the decades ahead.'
Both the prime minister and the deputy prime minister welcomed the announcement. David Cameron said that the specification represented 'the biggest modernisation of our railways since the Victorian era'.
He added: 'This investment will mean faster journeys, more seats, better access to stations, greater freight links and a truly world class rail network.'
Nick Clegg added that the investment would 'give the country the boost it needs' and would 'make journeys better for the millions of hard working people who use the train every day'.
Passenger Focus, the leading group representing rail users, welcomed the announcement. Chief executive Anthony Smith said: 'Our research shows that passengers' main priorities for rail improvement include more trains arriving on time, more and longer trains and more chance of getting a seat – these announcements will help meet these aspirations.'

However, he added: 'Value for money remains a concern. Passengers will want to see the government avoid above-inflation fare increases. These investments must be delivered in a cost-effective way.'

Network Rail chief executive David Higgins said the plans represented 'a strong vote of confidence in the railway'.

He added: 'There are some tough targets, made even more challenging with the need to deliver record numbers of services on essentially Victorian infrastructure. That is why the pledge to invest billions of pounds in projects to improve, update and transform our railway is not only welcome but essential.'

The Office of Rail Regulation will set the final terms of Network Rail's licence to run the rail network later this year.

Chief executive Richard Price said:'We now need to ensure that the plan is affordable, and to work with the rail industry to set out in detail how it can be delivered.'