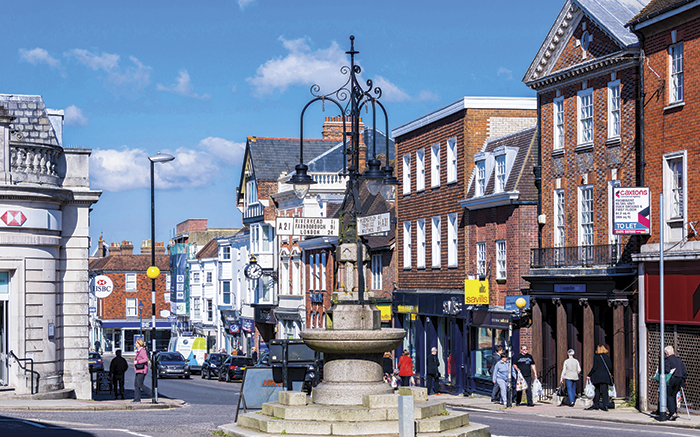 Everywhere looks a little more beautiful on a sunny spring afternoon, and this is certainly true of Sevenoaks, a small Kent town pitched perfectly in the garden of England, yet within rapid reach of central London. A bustling high street gives way to some handsome Georgian buildings, ringed with countryside.
"In the relatively short stretch before [Sevenoaks High Street] divides and descends into the valley, there are more worthwhile buildings than in almost any street in the county," says architectural historian Nikolaus Pevsner's guide to the buildings of England.
It's ironic that Pevsner's scout, writing back in the 1960s, should focus on the town's buildings, as property is key to the council's success. A property investment strategy has helped it to become the first district council in the country to achieve financial self-sufficiency.
Sevenoaks was recognised as innovator of the year at April's Public Finance Innovation Awards, where it also took the overall Grand Prix. Judges commended the council for its "impressive" financial independence: "Such autonomy becomes the precursor to fiscal devolution, enabling the organisation to achieve its objectives for the local area. This excellent example of innovation illustrates the wholesale change of the financial model, risk appetite and culture of the organisation."
PF met up with council chief executive Pav Ramewal and chief finance officer Adrian Rowbotham to explore the journey to self-sufficiency. The pair are clear that this has been no quick fix, but seven years in the making.
The starting point was successfully decoupling financial planning from the electoral cycle. Back in 2010 it was clear, says Rowbotham, that austerity was for the long term, not a one-year flash in the pan.
"With local government, it's often difficult to focus past the year or, at the most, a four-year political term, so we came up with the idea to do a 10-year balanced budget," says Rowbotham.
This allowed the council to assume and prepare for some hefty cuts to central government grant and – in the words of Ramewal – make some "pretty robust decisions" while planning how, over the longer term, it could continue to meet need. Early savings were significant: £4m in the first year on a budget of just £16m.
Making the savings early had the greatest impact over the 10-year period, explains Rowbotham. "The earlier you do it, the greater the benefit it has, so you're not just coming to the cliff edge each year; it's structured and you can plan further ahead and you can give staff greater assurance as you go through the process."
Getting members on board was key, and both Ramewal and Rowbotham praise the vision and commitment demonstrated by the council's political leadership, singling out the role played by council leader Peter Fleming, who is also vice-chair of the Local Government Association.
Fleming helped the council transform its financial management after it drew the ire of the Audit Commission back in 2005. By 2010, the council was fighting fit. "We got to a position where we were very well financially managed … we were pretty efficient, had a fair amount in reserve, and we were able to anticipate much of what was going to go on in the coming years," says Ramewal.
A budget stabilisation reserve for the revenue budget was set up to help the council break even each year. "Over the early years you make a surplus, over later years you make a loss but, over the 10 years, you have a balanced budget, and then you build on that to make it more sustainable in the longer term," says Rowbotham. The financial year just gone – 2016-17 – was the first in which the council achieved full financial self-sufficiency.
In 2015, the council launched a property investment strategy, asking members to approve an £8m investment fund (this has since risen to £18m). Approval was sought on the grounds that it would deliver a significant amount of revenue income per annum. External borrowing costs have been avoided, maximising revenue return.
Ramewal stresses that the council is looking to make investments that will benefit the whole district. Swanley, which is within Sevenoaks' boundaries but on the fringes of Greater London, has been largely overlooked and is ripe for regeneration.
"We've bought land and property there that we hope to redevelop, mainly in strategic sites. We want to invest and make Swanley attractive. It's less than
30 minutes from Victoria, yet people wouldn't know that," he says.
"Up to now, everything we've bought, we've bought in the district. Our investment strategy allows us to go wider, but we've stuck to the district because our view has always been we can do two things: get the returns we need to deliver great services, and regenerate and invest in the district."
Across the road from the room where we're sitting is the Suffolk House office block, now owned by the council and fully let for 10 years, bringing with it a healthy revenue stream. Up on Sevenoaks' small, stylish high street is fashion and homewares retailer M&Co, in premises owned by the council, with offices above and potential for expansion at the back.
A partnership with Premier Inn will lead to an 80-room hotel being built, catering for both business travellers and tourists. The district does not serve tourists well at the moment, Ramewal says, despite housing several world-class tourist attractions, among them Hever Castle and Chartwell, family homes of Anne Boleyn and Winston Churchill respectively.
Council investment has also locked in office space and thus employment, helping reverse a trend that was seeing commercial property being converted to residential use.
Governance around investments is, as one would expect, robust, and there are strict criteria about what can be invested in; the expected returns and risk are spread across assets. Sevenoaks has also adjusted its governance structures so it can be responsive and agile. While the full council signs off the fund, individual investments need approval only from the council leader and the finance portfolio holder. This has allowed the council to act quickly, Ramewal explains and, indeed, the council has been approached to invest as it is recognised that it can respond with speed.
Support from external auditors has been key. "We worked with auditors throughout the whole process," says Ramewal. Given Sevenoaks' pioneering approach, auditors were nervous, he acknowledges. "They too were learning. But our district auditor was brilliant. They worked with us – they supported us."
But it's not all about the bottom line and Ramewal emphasises that a cultural transformation has taken place alongside a financial one. A lot of time and effort has gone into ensuring the workforce was equipped to deal with austerity.
A lot of training has been led and managed internally, with "bite-sized" courses developed to reflect the culture. Many focus on soft skills and emotional intelligence; the council's leadership masterclasses are especially praised.
Around 30 coaches work at Sevenoaks – even the caretaker has an executive coach. Staff are empowered to operate with high levels of autonomy, encouraged to take risks and push themselves beyond their comfort zone. Unusually, the council outsources no services.
"Our view is if you take risks you'll be innovative and, if you're innovative, there's more chance of us delivering some outstanding outcomes for our residents," says Ramewal.
"We try not to blame. Managers are not allowed to shout, raise their voice, behave in an aggressive way or display negative body language, and they don't. And, by not doing that, you then have a much calmer workforce so people feel more relaxed. It's an environment where they can take risks and be empowered.
"And it works," he adds. "People feel powerful and fulfilled. Our people produce more widgets per head than many other organisations, so we've been able to make quite drastic savings and still maintain high levels of performance."
Rowbotham endorses this: "Our staffing capital is equal to our financial capital."
It's tempting to look at Sevenoaks, bijou and affluent, in the prosperous commuter lands of Kent, and draw the conclusion that financial self-sufficiency has been easy to achieve. How could it not be when the raw material is so promising?
Ramewal, however, disagrees, highlighting the deprivation problems that come with rural areas. "We started off 10 years ago in a really difficult place. It wasn't our affluence that brought us out of this – it was the courage of the members, the commitment of the officers and redesigning an organisation that could deliver for the future."
Looking ahead, the council has plans to keep on pushing forward. A company – the wittily named Quercus 7 – has been set up, with Rowbotham as its chair. This will invest in private housing and increase options for financing, as any dividends can be converted into revenue rather than capital receipts.
Rowbotham and Ramewal say residents and members always want more from the council, so thoughts are coalescing around how the council can push into new areas and go beyond what they have to do by law.
"Our leader talks constantly about supporting other public sector organisations who are providing services in the district and, if we can, to try to enhance those services," says Ramewal. In health, for example, Sevenoaks has teamed up with two neighbouring districts and Kent County Council to pool funding for preventive services.
Could others follow where Sevenoaks has led? Financially, timing was everything. Setting the 10-year balanced budget back in 2010 was the key that unlocked success. Hard decisions taken early on combined with an organisation-wide cultural shift are now paying off handsomely.
"Timing was critical for us," says Ramewal. "But I think anyone can start changing culture at any time. It's never too late to start looking at that, to think about how can we develop human capital more effectively so it delivers better outcomes."
---
Visit this page for more information on the Public Finance Innovation Awards