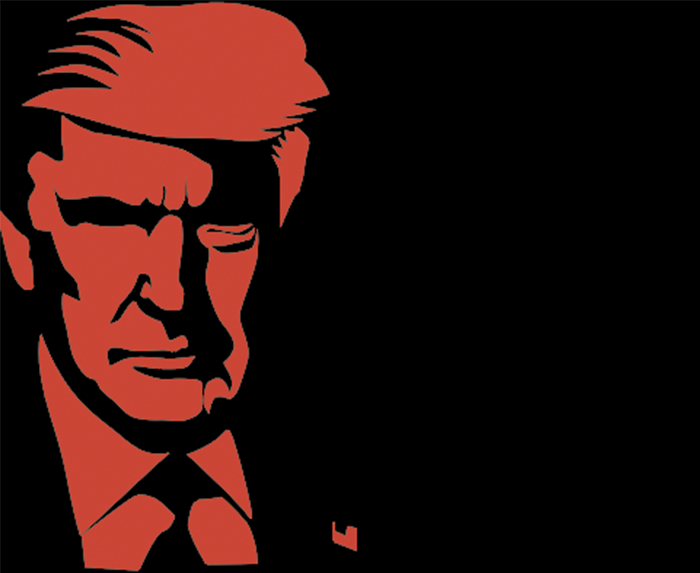 Surgical scheduling under par
Improving scheduling efficiency would enable an additional 291,327 routine operations to be carried out in England each year, according to NHS Improvement. A third of operating lists started 30 minutes or more late between January and December 2017, noted a joint report with audit firm Deloitte, published in February.
Tip of the fraud iceberg
Fraud and error in central government cost up to £20bn in 2016-17, according to a Cabinet Office report. An estimated £2.7bn and £20.3bn was lost, while actual detected fraud and error reached £191m, which the department described as "the tip of the iceberg".
All hands to deck
The French government has announced plans to send €50m to its country's ports and airports if the UK leaves the EU without a deal in March. It also plans to start hiring 600 extra employees to deal with the consequences of a no-deal Brexit for trade.
---
Does Trump make a good president?
Donald Trump has been American president for two years. According to a YouGov poll carried out in January, after a 35-day partial federal government shutdown – the longest in US history– more than half (64%) of British adults said that, prior to him entering office, they had expected Trump to be 'bad', and believed he had not been a good president. Just under one fifth (9%) expected him to be good, while 8% said they expected him to be bad but had been positively surprised.
The most – and least – corrupt nations
Over two thirds of countries around the world have scored less than 50 on a scale from 0 (highly corrupt) to 100 (least corrupt), according to Transparency International's 2018 Corruption Perceptions Index. The average global score in the index was 43 – the same as in previous years. Denmark and New Zealand top the index with 88 and 87 points, respectively. Somalia, South Sudan and Syria are at the bottom of the index, with 10, 13 and 13 points, respectively. The US was knocked out of the top 20 for the first time since 2011, losing four points since last year with a score of 71. The UK sits in 11th place joint with Germany, with a score of 80 – down from eighth place.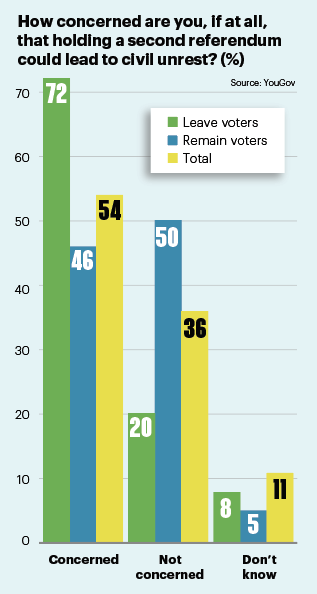 Referendum defines Brits
The EU is now the issue people see as most important to themselves and their families, crossing political and demographic differences, according to a poll by campaign group Hope not Hate. Most people – 58% – consider themselves as a hardline Remain or Leave voter.
With parliament now deadlocked, 60% of people support a new public vote on Brexit, according to a poll of 32,757 people conducted by YouGov and Populus. But the polling also found that people who voted remain and leave were concerned about civil unrest if a second referendum was held – particularly leave voters (see graph). With political gridlock, 42% of people think it would be sensible to delay EU departure by a few months, but 38% of respondents felt any delay would be betray the 2016 referendum.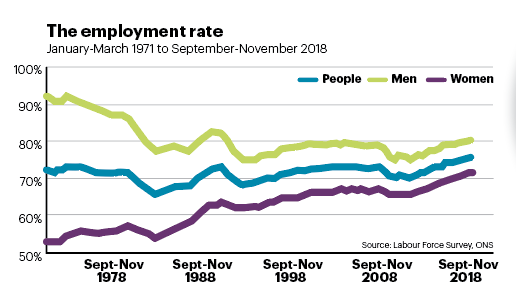 UK achieves in-work record
The UK's employment rate – the proportion of people aged 16 to 64 in work – between September and November 2018 was the highest since comparable records began in 1971, according to Office for National Statistics figures released last month. An estimated 32.53 million people were in work from September-November 2018 – 141,000 more than June-August 2018 and 328,000 more than the same period in 2017. An estimated 8.65 million people aged 16 to 64 were economically inactive (not working and not seeking or available to work) – 100,000 fewer than June-August 2018 and 86,000 fewer than the same period in 2017.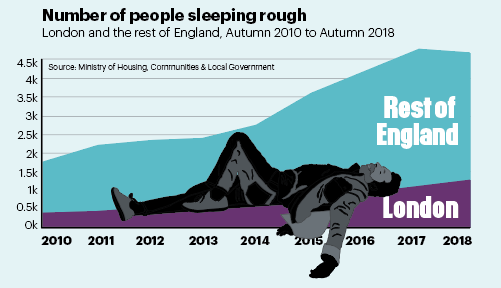 Rough sleeping rate spirals
The number of people sleeping rough on the streets in England has gone up by 165% since 2010, according to data published by the Ministry of Housing, Communities & Local Government in January.
A single-night snapshot in autumn last year showed 4,677 people were counted or estimated to be sleeping rough. Although this was down by 74 people – or 2% – from 2017, when the total was 4,751, it was up 2,909 people – or 165% – from the 2010 total of 1,768. London accounted for 27% of the total number of people sleeping rough that night.
UK nationals made up 64% of the total number of rough sleepers, compared with 71% in 2017, while 22% were EU nationals from outside the UK, compared with 16% in 2017.
Braving the elements
Councils are making cold weather preparations a "key priority", according to a survey by the Local Government Association.
A winter readiness survey found that 94% of councils have more or the same level of salt to grit roads than last year, when the Beast from the East caused widespread disruption. More than half (55%) of the 86 councils that responded said they would share salt stocks if necessary, 30% said they would share gritting machinery, and 22% will send staff to key locations.
Councils spent millions dealing with blocked roads, closed schools and emergency help for rough sleepers last year. Durham County Council forked out almost £5m extra to keep services moving between December 2017 and March 2018 – nearly double the previous winter's figure.
90% of English councils have made changes to their own council tax support scheme
Council tax relief slashed Since council tax benefit – Britain-wide council tax relief for low-income families – was abolished in April 2013, 90% of English councils have made changes to their own council tax support scheme. This is according to the Institute for Fiscal Studies think-tank.
English councils were charged with coming up with their own council tax support (CTS) post-2013.
The Scottish and Welsh governments had to design schemes for their countries. Almost all of the changes made to CTS in England have been cuts, the IFS report released last month said.
The most common minimum payment households were required to pay in 2018-19 was 20% of council tax – required by 78 councils – the IFS found.
A fifth of councils requested no minimum payment, but another fifth asked low-income households to pay more than 20%.