Held to account
Public Sector Audit Appointments revealed that 64 local authorities out of 495 missed the July deadline for publication of their 2017-18 accounts. Just 25 bodies missed the deadline the previous year. Of those that were late, 50 were councils, 10 were police bodies, one was a fire authority and three were other local government bodies.
How much in the kitty?
No taxpayers' money has been spent feeding Gladstone, the Treasury cat. A Freedom of Information request revealed that Gladstone's costs are met through voluntary donations, while staff volunteers care for him in their own time. Gladstone has a large social media following and took part in a Budget video.
Stay on and study
Almost all (95%) pupils now stay on in full-time education beyond the age of 16, regardless of social background and family income. Institute for Fiscal Studies analysis for the Nuffield Foundation identified a "remarkable shift" in the focus of education towards the poorest pupils in the 2000s.
---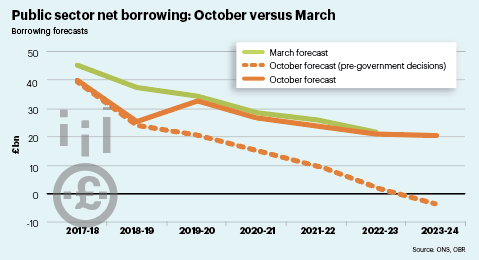 Loosening the purse strings
The autumn Budget revealed that the public finances are in a healthier state than predicted in March, but the government has chosen to spend the fiscal windfall rather than save it. The Office for Budget Responsibility's latest Economic and Fiscal Outlook showed a steady fall in borrowing until 2022-23. However, this has been largely cancelled out by government decisions to increase spending on the NHS and other public services and raise the income tax personal allowance threshold to £12,500. "This is the largest discretionary fiscal loosening at any fiscal event since the creation of the OBR," it noted.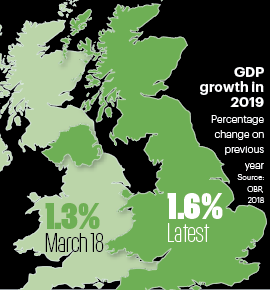 ---
Room to grow
Growth expectations for 2019 have been revised up from 1.3% to 1.6%, thanks largely to giveaways in the Budget. The OBR dubbed the growth trend "relatively stable but unspectacular".
It noted that growth this year had been suppressed by snowy weather in the first quarter of the year, with growth expectations for 2018 lowered from 1.5% to 1.3%.
The OBR caveated its prediction about the future path of GDP, noting that a range of outcomes were possible. These could see the economy swell by almost 4% or contract by 1.5%. The most immediate risk is a disorderly exit from the EU.
---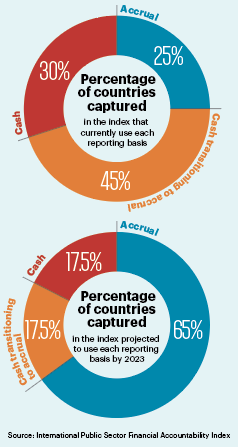 Dash from cash
Almost two-thirds of governments around the world will shift to accrual-based accounting within the next five years, an index issued by CIPFA and the International Federation of Accountants predicted.
By 2023, 65% of governments will be reporting on an accrual basis – an increase from just one-quarter of governments that have so far made the transition from cash.
The International Public Sector Financial Accountability Index looked at information from 150 countries around the world and was launched at the World Congress of Accountants in Sydney in November.
Referendum rethink?
Although hundreds of thousands of people took to the streets of London to demand a second vote on EU membership, few think this is likely. A YouGov poll found that only a fifth of respondents thought a second vote very or fairly likely, while two-thirds thought it very or fairly unlikely.
Remain voters were slightly more optimistic than the general population, with one in four thinking a re-run before next March was likely, while Leave voters were much more sceptical.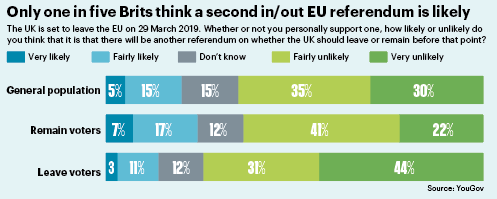 Learning the language of integration
A pioneering Ministry of Housing, Communities & Local Government trial has demonstrated that supporting people to learn English improves community cohesion. The experiment involved 527 people across five areas in England and found those given immediate language support via classes and conversation groups achieved far better English test scores and formed more friendships with people from other cultures.
The findings were highlighted in a report on experimental government from the What Works Network. Stephen Aldridge, MHCLG director of analysis and data, said the trial "allowed the department to be confident in its support for community-based" integration approaches.
---
Mind the gap
Women get to work more quickly than men, with almost half (43%) managing the magic 15-minute commute, compared to just one-third of men.
Institute for Fiscal Studies analysis of Office for National Statistics figures highlighted a 'gender commuting gap'. One-quarter of female workers spend more than half an hour travelling to work, compared with one-third of male workers.
The IFS found that women's commuting time fell significantly after the birth of their first child, while men's does not.
The think-tank made a connection with the gender pay gap, which also "really opens up" after the arrival of children in the family.
"If women take work closer to home because of caring responsibilities, they may be less likely to find a job matched to their skills or with a high-paying employer," the IFS said.
Employers might also be able to exploit the fact that mothers are limiting their job search to relatively local alternatives, allowing them to hold wages down, it added.