Quick wins
The drugs don't work: David Cameron's £1.27bn Cancer Drugs Fund provides neither monetary nor clinical value, and may have even caused patients to suffer unnecessarily, according to a study in the Annals of Oncology. The fund was set up in 2010 to pay for cancer drugs not available on the NHS.
Slow to pay suppliers: Councils take far longer than average to pay suppliers, the Asset Based Finance Association has said. The average in 2015-16 was 16.35 days, although some took 38 days. ABFA chief executive Jeff Longhurst said: "Central government has procedures in place to try to ensure prompt payment."
Trump's tax cut: US president Donald Trump plans to halve corporate tax rates and ditch some taxes. It is estimated that the cuts will cost the US government $7trn over 10 years, which has led to calls to boost the country's fiscal health by tax increases elsewhere or spending cuts.
Shift right in vote with age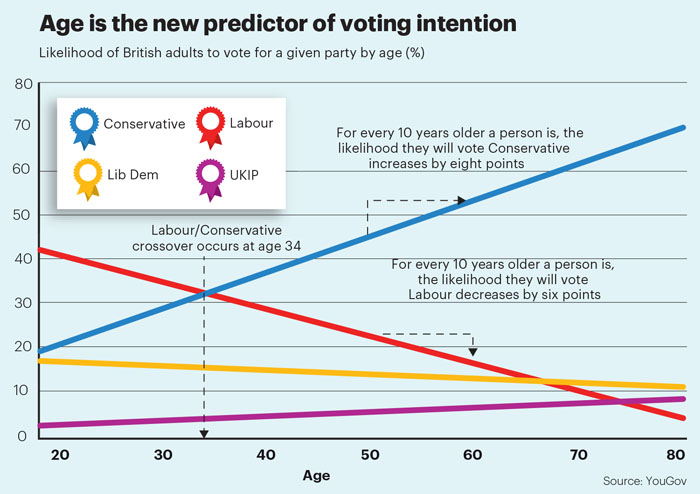 Class divisions?
Once upon a time, class was a reliable predictor of voting intention. Even as recently as 1992, the middle classes overwhelmingly favoured the Conservatives, while the workers went for Labour.
Such distinctions, however, have now collapsed. Polling from early April showed support for the Tories and Labour was consistent across all six social groups.
However, Liberal Democrat support was notably strong among ABC1 voters, while UKIP were more popular with C2DE voters.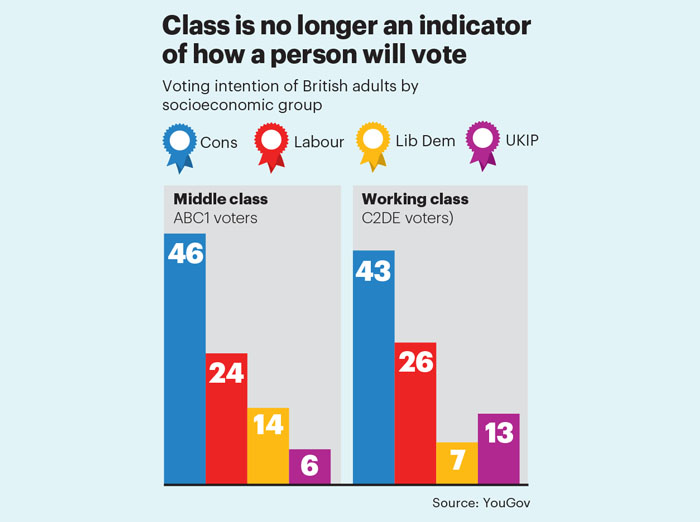 Tax the opposition
Labour could have made its pledge to raise taxes on people earning over £80,000 a year safe in the knowledge that it would affect few of its voters.
YouGov polling revealed that just 11% of those with an income of £70,000 (Labour's previous higher tax rate threshold) intend to vote for the party.
Labour support is stronger the lower down the income chain one goes.
However, 40% of those earning less than £20,000 a year plan to vote Conservative.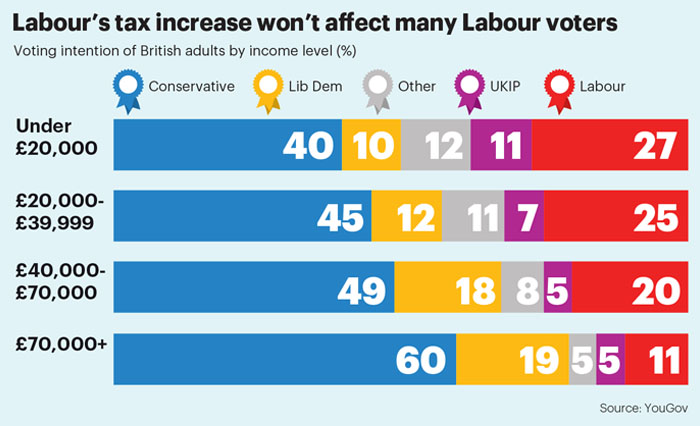 Back to 1950s on health spend
Spending on health has slowed to a rate not seen since the 1950s – but is still "generous" given budget cuts in other departments, according to the Institute for Fiscal Studies.
Figures released by the think-tank in May showed UK health spending between 1955-56 and 2015-16 went up 4.1% a year in real terms on average but just 1.3% per year on average between 2009-10 and 2015-16.
Spending increased from £12.8bn (2.8% of national income) in 1955-56 to £143.7bn (7.4%) in 2015–16 – growing from 7.7% of public spending to 18.4% over that period.
George Stoye, IFS senior research economist, said government plans "would leave health spending in 2019-20 below the amount needed to keep pace with the growth and ageing of the population since 2009-10, let alone the amount required to account for multiple other pressures on the health budget".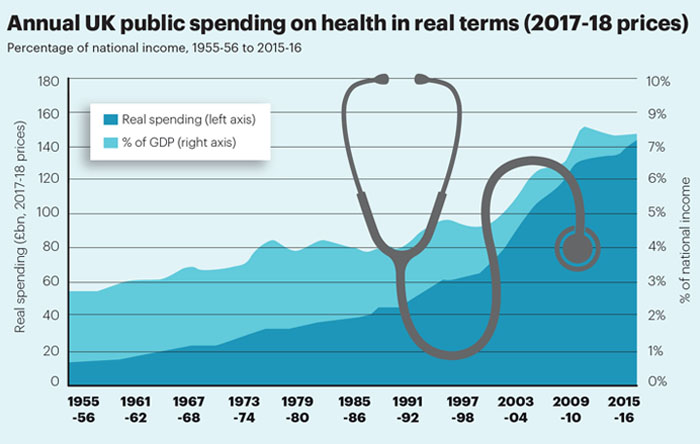 Home Office help
The Home Office is woefully unprepared to process potentially millions of applications for permanent residency from EU nationals, according to research by the Institute for Government.
The volume of applications is increasing rapidly, according to the IfG, with the Home Office processing six times as many in the final quarter of 2016 as the year before.
"To process all EU nationals currently eligible for permanent residence by March 2019, the Home Office would need to make roughly 3,600 decisions per day; it is currently making about 650 decisions per day," the think-tank said.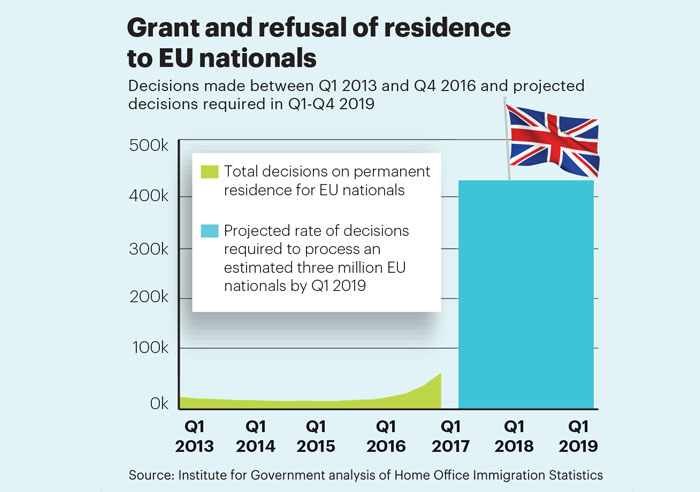 Growth goes down
The UK economy grew just 0.3% in the first quarter of this year, the slowest rate for a year, according to the Office for National Statistics.
The ONS said that the slowdown in GDP growth between January and March was due mainly to the service sector, which sank to 0.3% growth against 0.8% at the end of 2016. Production, construction and agriculture grew by 0.3%, 0.2% and 0.3% respectively, while GDP per head was estimated to have increased by 0.1%.
Chancellor Philip Hammond claimed that the economy was in good shape and "resilient".
However, opposition politicians saw the beginnings of a Brexit-related slowdown.
Liberal Democrat Susan Kramer said: "The bad news will only get worse if the Conservatives are allowed to pursue their hard Brexit agenda and put our economy and jobs at risk."
Shadow chancellor John McDonnell said the Conservatives had "undermined" the economy and were threatening people's living standards.