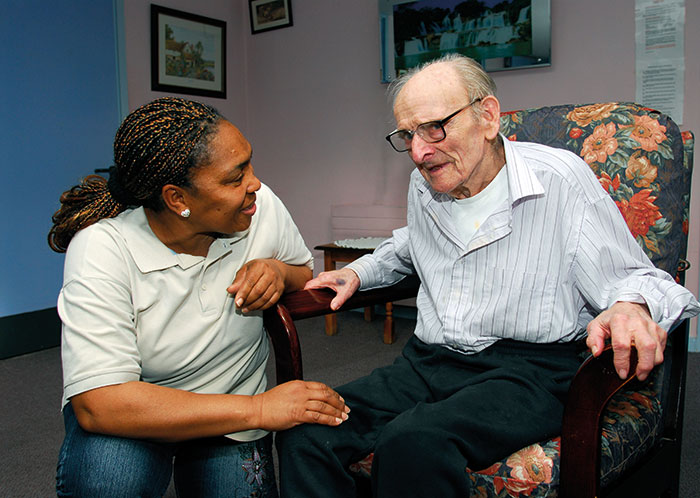 In essence, the problem is this: not enough people want to work in adult social care.
It is already serious. In 2012-13, the vacancy rate was a problematic but manageable 5.5%. It has now climbed to 7.8%, with around 122,000 jobs vacant at any one time. Although there are high vacancy rates for specific roles such as nurses, most of the vacancies are for care workers, who make up the great majority of the workforce.
This reflects a combination of some deep-seated issues, including the poor status of care work, as well as a more recent one: the slowdown in funding for publicly funded social care since 2010-11. As a result, there was no real-terms increase in average care worker pay between 2012 and 2014. Pay only began to grow when the national living wage was introduced in 2016. But other sectors have increased pay more rapidly, so people can now earn more money working in a supermarket or as a cleaner.
International recruitment has filled some of the workforce gap. Of the 1.5 million workers in the sector, migrants make up around 250,000, nearly half of whom come from the European Union. In London, migrants make up a third of the workforce and in the South East a quarter.
Brexit, and the ending of free movement of labour between the EU and the UK, will make a bad situation worse. It creates an obvious barrier to increasing or even maintaining the number of migrants at a time when vacancies are rising. The sector has lobbied for a sector-specific route into social care for migrant workers, but the signs look very unpromising. The government's advisory board, the Migration Advisory Committee, recognised the importance of migrant workers to social care, acknowledged that the loss of them would create a problem but resisted calls from sector leaders to create such a route. Rather, it argued that the sector's problems were a direct consequence of chronic underfunding and urged that this should be tackled instead.
That leaves the sector in a perilous situation.
Employers have some power to improve it with better recruitment. Some have much more success than others; values-based recruitment and honesty about the realities of a social care role are said to help. And research suggests some people do not apply for jobs in social care because they are not aware there are vacancies. That could be addressed and the government is running an advertising campaign to promote the sector, which is showing some small signs of success. But impact is slow in a sector made up of thousands of small, independent companies.
Nor is the underlying problem easy to resolve when a key part of it – a perception of low pay – is true. Any long-term solution then is going to require a major boost in workforce pay. To implement that – certainly in the part of the sector that relies on income from publicly funded provision – requires more money from the government and a sustainable, long-term reform of social care funding. That would allow local authorities the headroom to increase the rates they pay to providers, while ensuring in their commissioning that the money reaches the front line.
There is no immediate sign of significant extra money. The promise in the Conservative manifesto was only for an extra £1bn, spread across adult and children's social care. Even with the extra spending power generated through the social care precept on council tax, it is not enough to do any more than keep the show on the road, and may not even be enough for that in some places.
However, if the government is serious about fixing social care at a time when Brexit will reduce its workforce, the money needed to increase pay for its staff is essential.
Image credit | Alamy