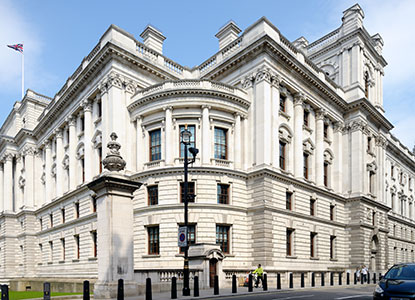 Last October, the chancellor stood up in the House of Commons and claimed that "the era of austerity [is] finally coming to an end".
To that end, the 2018 Budget announced that day-to-day spending on the delivery and administration of most public services – would increase by 1.2% a year on average in real terms from 2019/20 to 2023/24.
But lots of that money is already committed and departments will not share that increase equally.
New analysis from the Institute for Fiscal Studies, launched at a joint briefing with the Institute for Government, shows that over half of day-to-day public service spending (£156 billion in 2018/19) – on the NHS, defence, and overseas aid – has already been allocated.
This leaves less for other public services such as schools and prisons. In fact, real-terms spending on so far unprotected areas will be 1.5% lower in real terms in 2023/24 than in 2019/20.
The IFS estimate that the chancellor would have to spend £5bn more than is currently planned by 2023/24 to maintain real spending per person on unprotected services – one definition of ending austerity.
But for many people working in public services, this still would not feel like an end to austerity.
In several services demand has risen, and is projected to continue rising, faster than overall population growth.
In children's social care, activity has risen faster than population growth. In 2018, social workers investigated 122% more child protection cases than in 2010, and there were 38% more children on child protection plans. Over that same time, the population in England grew only 6%.
---

'The IFS estimate that the chancellor would have to spend £5bn more than is currently planned by 2023/24 to maintain real spending per person on unprotected services – one definition of ending austerity.'

---
Adult social care faces similar pressures.
The Personal Social Services Research Unit project that the number of older people receiving state-funded social care will increase by 13% between 2019 and 2024.
The Centre for Disability Research project that the number of working-age adults with substantial learning and physical disabilities will increase by 11% between 2019 and 2024. Both outpace population projections for England, which suggest the population as a whole will grow by 3% over the same period.
If demand for services rises, keeping per-person spending flat in real-terms will feel like a cut for many frontline workers in public services.
One way to square the circle of rising demand and spending growth is to increase efficiency – to get public services to deliver more for less.
As the Institute for Government's Performance Tracker shows, public services have become more efficient since 2010.
Local authority food hygiene staff, for example, completed an average of 246 inspections of and other interventions in food businesses in 2017/18, an increase of nearly 10% compared to 2009/10.
But it is likely to become harder to find further efficiency improvements. In some areas it is clear that efficiencies made are not sustainable – especially in prisons and adult social care.
Prison violence has spiralled since 2014, and adult social care providers face increasing difficulties recruiting and retaining care workers. Any attempt to maintain or increase the output of these services without increasing spending is likely to lead to a deterioration in quality.
There may be more scope for efficiency in other public services.
In schools, spending per pupil remained essentially flat in real terms between 2010 and 2015, meaning schools did not have to work as hard as some other services to find efficiency savings over this period.
In children's social care, there is large variation in spending per child in need, with no relationship between spending and Ofsted scores – suggesting that some areas that are currently spending more could learn from those that spend less.
But that does not mean that services will easily be able to make efficiencies. The government lacks credible plans for how services will make theoretical efficiencies, without limiting the scope or quality of services.
On 13th March, Philip Hammond will stand in the House of Commons and set out the Spring Statement.
He could use this opportunity to set out a more generous spending settlement – one that reconciles the government's ambition to end austerity with demand projections and its pre-announced spending commitments.
But he must be clear: the easiest efficiency savings have already been made, and choices are getting harder.
With signs that the government has little appetite for cutting pensioner benefits and is under pressure to increase the generosity of working age benefits, he must make the reality facing the public explicit: higher taxes, lower expectations of services, or more individual contributions.