Government spending plans announced in the autumn Budget will mean real terms cuts for public services other than health, defence and overseas aid, according to analysis by the Institute for Fiscal Studies.
The research, funded by the Economic and Social research Council and supported by the Institute for Government, said to avoid any cut to real-terms per capita spending, unprotected government departments would require an additional £5bn by 2023-24.
Budgets for unprotected services have been slashed by 3% year on year since 2010, amounting to a loss of £40bn, the IFS said. But going forward cuts will only amount to 0.4% per year, it added.
Ben Zaranko, research economist at the IFS and author of the report, said although the NHS had been given an extra £20bn annually over the next five years "these increases wouldn't be enough even to cover the NHS commitment in full".
He added: "This suggests yet more years of austerity for many public services – albeit at a much slower pace than the last nine years."
The think-tank said that even modest further savings may be hard to come by with departments like the Ministry of Justice and the Department for Environment, Food and Rural Affairs having their day-to-day budgets reduced by around 40% in real terms between 2010-11 and 2019-20. See graph from the IFS report below.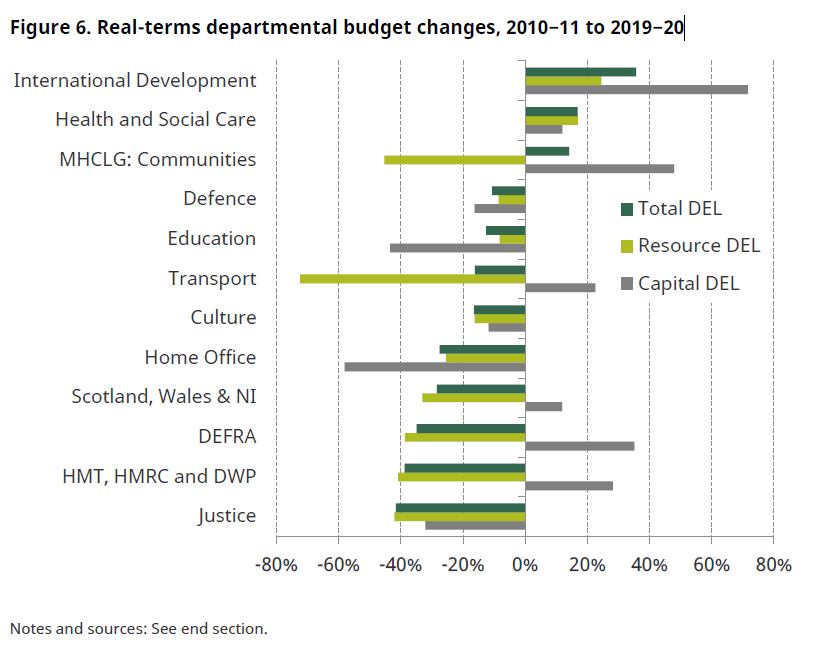 A no-deal Brexit would make for lower growth and a smaller economy than otherwise, the IFS said, and this would mean lower spending and/or higher taxes in the medium term.
"While an economically bad Brexit would likely mean lower spending in the longer term, if anything it might require additional spending over the next few years," Zaranko explained.
Richard Watts, chair of the Local Government Association's resources board, said: "Councils were at the front of the queue when austerity started so local services should be at the front of the queue if it is coming to an end."
A Treasury spokesperson said: "We have made clear that health is our number one spending priority by announcing a five-year settlement which will provide an extra £34bn a year for the NHS by 2023-24.
"Outside the NHS, total day to day departmental spending is now set to grow in line with inflation, and public investment will reach levels not sustained in 40 years in this parliament."
The Spending Review is expected to be later this year, although a date has not yet been announced. The Finance Bill is due to receive Royal Assent next week.
In the autumn Budget chancellor Philip Hammond announced £650m package to help councils cope with increasing social care demands.
In November, a damning UN assessment of austerity in the UK found that local government had been "gutted" since 2010.