Quick wins
Cash for grammar school places: A £50m selective schools expansion fund to allow grammar schools to offer more places has been launched. Schools will have to commit to educating disadvantaged students to get a share of this. The funding will allow existing grammar schools to extend their premises to take on more pupils.
More workers save pensions: More than 9.5 million people are saving into workplace pensions since auto-enrolment was introduced. Almost three quarters (73%) of British workers contribute to a pension now, up from fewer than half (47%) in 2012, according to the ONS.
Student loan rate 'absurd': The interest rate on student loans will increase to 6.3% from this autumn, following a rise in the RPI measure of inflation. MPs on the Treasury committee said using this measure was "absurd" and suggested the lower CPI measure of inflation should be used instead.
Differing consequences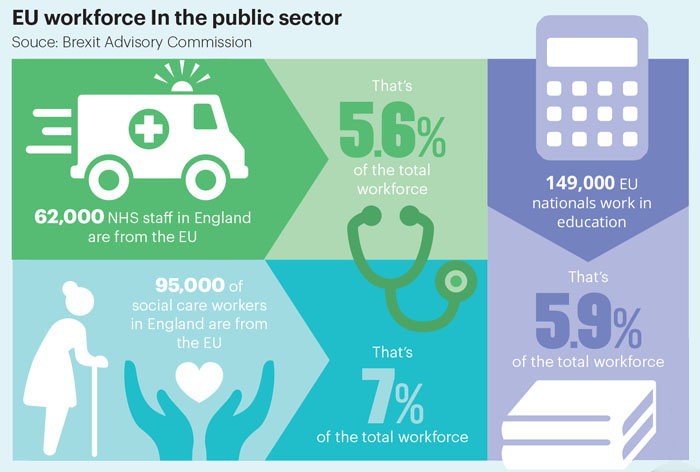 Souce: Brexit Advisory Commission
Being unable to recruit EU staff would have varying consequences in different public sector areas, according to CIPFA's Brexit Advisory Commission for Public Services.
It said that a loss of staff would be noticed immediately in areas with large numbers of low-skilled workers, such as social care, because they would exacerbate existing shortages. In the longer term, the UK would be less able to compete globally for high-level staff in academia and medicine, which would not only affect the quality of NHS services but also damage health industries.
"There is a serious risk that more of our own leading professionals will go abroad to work with the best," the commission added.
Counting on it
Approximately 62,000 of the 1.2 million NHS workers in England are from other EU countries.
They include 11,000 doctors, 21,000 nurses and health visitors, 1,400 midwives and 7,700 scientific and technical staff and therapists, according to NHS data analysed by the House of Commons Library and cited in CIPFA's Brexit Commission report.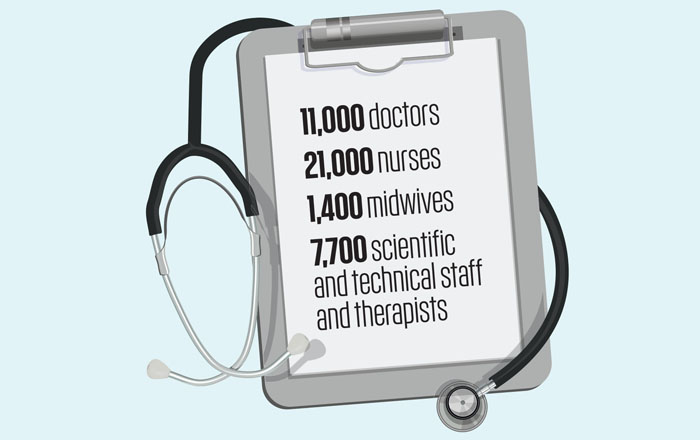 Growing younger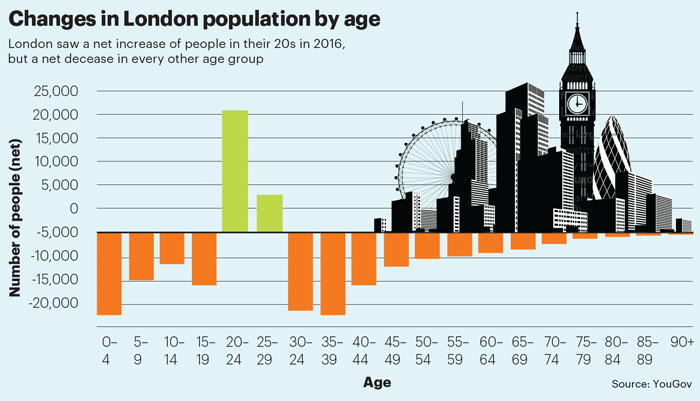 London is becoming an increasingly young city, according to research by pollster YouGov.
In 2016, there was a spike in the number of people in their 20s in the capital, particularly those in their early 20s. However, every other age group saw a net decrease, from babies through to those aged over 90.
"In effect, London is attracting better educated young people, who in time are deposited back into commuter belt towns," YouGov said.
"The political effects of these significant patterns can be seen in elections since 2015."
Contract bridge
The contract between generations and the idea that different generations should support each other at each stage of life are the subject of a major report by the Resolution Foundation.
The report, from the think-tank's Intergenerational Commission, cited Ipsos Mori data demonstrating significant public support for this. There is widespread agreement with the notion that social success is measured by how older people are treated – a view that gains support as people age.
Many people also say each generation should enjoy a higher living standard that the one that came before it.
Getting better?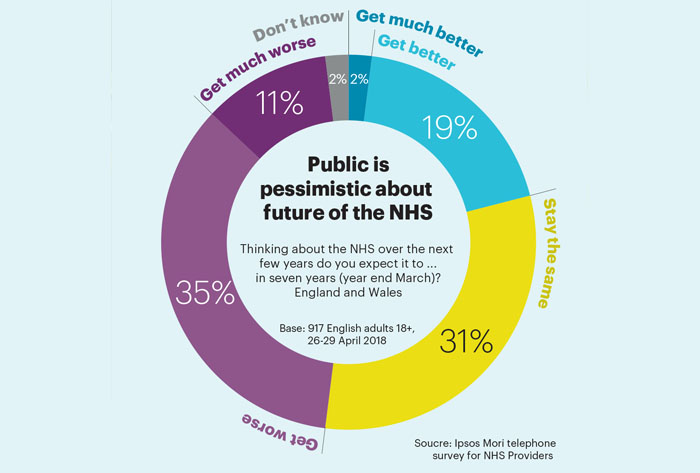 People are pessimistic about the future of the NHS, research by Ipsos Mori has found.
Just one fifth of the public (21%) expects the service to get better or much better over the next few years, while 46% of people expect it to get worse or much worse. Just under a third (31%) agree it is likely to stay the same.
Ipsos Mori chief executive Ben Page said: "The public continues to show strong support for the NHS as it approaches its 70th anniversary.
"However, there is real concern about the future funding of the NHS, and a majority agree it needs more money."
Drink up
Scotland has become the first country in the world to bring in a minimum unit price for alcohol.
Legislation that took effect in May prices alcohol at a minimum of 50p per unit. This should save 392 lives in the first five years of implementation, according to research cited by the Scottish Government.
First minister Nicola Sturgeon called the action "bold" and "brave".
She said: "It's no secret that Scotland has a troubled relationship with alcohol. There are, on average, 22 alcohol-specific deaths every week in Scotland, and 697 hospital admissions – and behind these statistics is a person, a family and a community badly affected by alcohol misuse.
"Given the clear and proven link between consumption and harm, minimum unit pricing is the most effective and efficient way to tackle the cheap, high-strength alcohol that causes so much damage."
Health secretary Shona Robison added that alcohol misuse costs Scotland £3.6bn – £900 for every adult.
The country's chief medical officer, Dr Catherine Calderwood, said she was confident that minimum pricing would save hundreds of pounds and thousands of hospital admissions.