The proportion of government housing subsidy being spent on boosting new home building in 2015-16 was 4.3% - down from 82% in 1975-76, analysis by the umbrella-body for housing organisations, released today, found.
This compared to 95.7% of government spending on housing benefit and support for mortgage interest - up from just 18% 40 years earlier, the CIH revealed in its report UK Housing Review 2018.
See the graph from the review below on the change in balance of government housing subsidies in England from 1975 to 2016: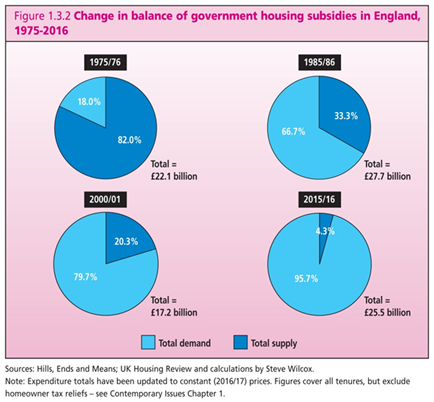 CIH chief executive Terrie Alafat said: "The government has pledged to deliver 300,000 new homes a year.
"That is absolutely the right ambition, but we are never going to reach that target unless more investment is switched to bricks and mortar.
"Investing in new homes would help make housing more affordable for people who are struggling."
She added it was important to build the "right homes, in the right places, at the right price".
The report also showed investment in social housing has dropped from £13.7bn in 1979-80 to £5.1bn in 2016-17, in today's prices.
It also highlighted the government plans to direct 79% of its £53bn budget up to 2020-21 (including through loans and guarantees) towards private housing with 21% going to affordable housing.
Separately today, the Ministry for Housing, Communities and Local Government has announced a funding boost of £218m for housing projects in the West of England and Oxfordshire.
Oxfordshire's housing deal is worth £215m and will deliver 100,000 homes by 2031 and provide £150m to fund the building of bridges, roads and roundabouts as well as producing more than 1,300 affordable homes.
The MHCLG said the West of England investment "will help to nearly double the number of new homes being delivered historically" in the region, from 4,000 homes to 7,500 per year.
The West of England housing package also includes £3m of funding for specialist support to help the region deliver large housing developments.
Housing secretary Sajid Javid said: "This new housing investment in the West of England and Oxfordshire will help build much-needed homes, giving more people the opportunity to get on the property ladder.
"We're also investing in local infrastructure like schools, roads and hospitals, so that we can help unlock even more new homes in the areas where they're needed most and build a Britain for for the future."
The Housing Infrastructure Fund bids from 44 areas, with a potential to deliver 400,000 homes, have now been shortlisted to the next stage, the MHCLG also said today.
If the bids are granted, the fund will provide a boost of £4.1bn for major infrastructure projects such as roads, bridges, new schools and medical centres.
Government officials are to work with areas that have bid to further develop their applications and assess the projects.