Transport secretary Chris Grayling also confirmed the HS2 routes to the north west, East Midlands and Yorkshire.
"Britain's new railway line will bring huge economic benefits across the country and help ensure this government delivers on its promise to spread wealth beyond London and the south east," Grayling said.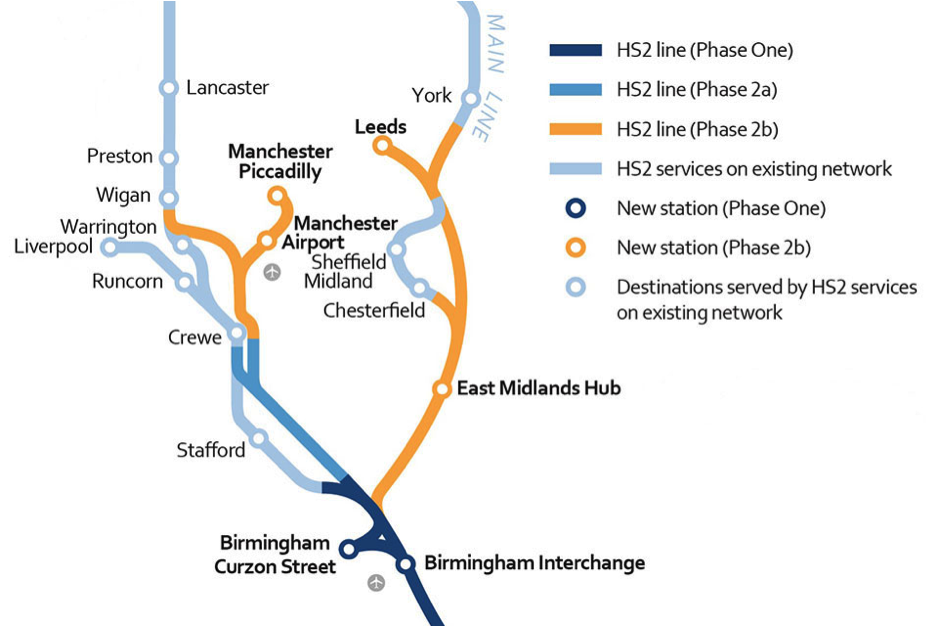 The £6.6m contracts announced today are predicted to support 16,000 jobs across the country with the HS2 trains expected to carry more than 300,000 people a day.
"As well as creating skilled jobs, apprenticeships and business opportunities, it will also mean real day-to-day improvements for people across the country," Grayling added.
The list of the joint ventures awarded the stage 1 contracts is below.
Research has suggested the high-speed rail service could more than double rush hours seats from Manchester Piccadilly towards Stoke and Crewe, and from Leeds towards Wakefield, the Department for Transport said.
An upcoming bill for the section of the line from the West Midlands to Crewe will act as a planning application, the government said. If approved it is hoped this will open in 2027.
Preparatory work on phase one has already commenced, with major construction starting in 2018 to 2019.
The government said it is on track to open the link from London to Birmingham in 2026, the route to Crewe in 2027 and the routes to the East Midlands, Yorkshire and Manchester in 2033.
---
Phase one contracts awarded:
Area South
S1: Euston Tunnels and Approaches – SCS JV (Skanska Construction UK Ltd, Costain Ltd, STRABAG AG)
S2: Northolt Tunnels – SCS JV (Skanska Construction UK Ltd, Costain Ltd, STRABAG AG)
Area Central
C1: Chiltern Tunnels and Colne Valley Viaduct – Align JV (Bouygues Travaux Publics, VolkerFitzpatrick, Sir Robert McAlpine)
C2: North Portal Chiltern Tunnels to Brackley – CEK JV (Carillion Construction Ltd, Eiffage Genie Civil SA, Kier Infrastructure and Overseas Ltd)
C3: Brackley to South Portal of Long Itchington Wood Green Tunnel – CEK JV (Carillion Construction Ltd, Eiffage Genie Civil SA, Kier Infrastructure and Overseas Ltd)
Area North
N1: Long Itchington Wood Green Tunnel to Delta Junction and Birmingham Spur – BBV JV (Balfour Beatty Group Ltd, VINCI Construction Grands Projets, VINCI Construction UK Ltd, VINCI Construction Terrassement)
N2: Delta Junction to WCML Tie-In – BBV JV (Balfour Beatty Group Ltd, VINCI Construction Grands Projets, VINCI Construction UK Ltd, VINCI Construction Terrassement)