The latest YouGov voting intention figures sees voting intention for the Conservatives down one point to 42% from the 43% it was at the weekend.
Labour meanwhile are on 39% up from 36%, giving the Tories a lead of just 3 points - the narrowest YouGov polling has had the race to date.
The Liberal Democrats are on 7%, down from 8% at the weekend, UKIP remain on 4% and votes for other parties are at 8%, up from 7%.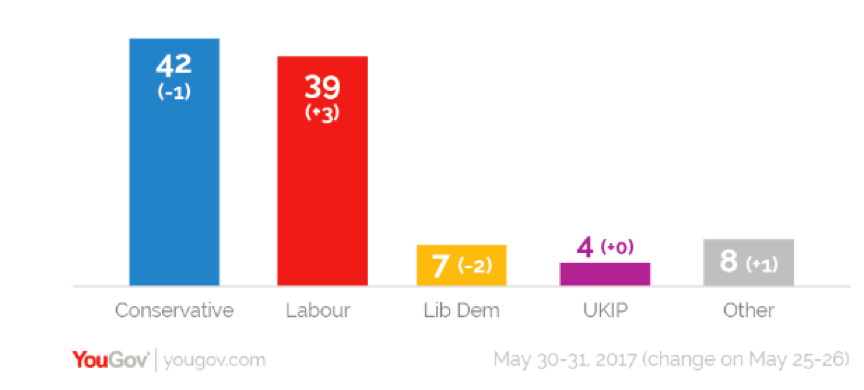 The results follow a heated seven-way TV debate featuring most of the party leaders, only SNP's Nicola Sturgeon and the Conservatives' Theresa May declined to take part.
Leaders from Labour, Greens, Lib Dems, Ukip and Plaid Cymru attended the BBC debate in front of a live audience in Cambridge yesterday evening.
Tory home secretary Amber Rudd and SNP deputy leader Angus Robertson defended their party's policies instead of their respective party leaders.
The other party leaders lambasted May for not taking part in the 90 minute discussion.
Plaid Cymru leader Leanne Wood said May's "campaign of soundbites is falling apart" and that is why she failed to turn up.
Labour's Jeremy Corbyn criticised the government over police cuts and financial problems facing public services, such as health care and education.
Rudd accused Corbyn of pushing "fantasy economics" based on a "magic money tree" a reference to Labour's proposed tax rises to pay for billions of pounds worth of investment into the NHS and schools.
She also said Labour's plans to reverse cuts to corporation tax would damage the economy and harm job prospects.
The audience jeered Rudd when she urged voters to "judge us (Conservatives) on our record", with Corbyn asking her if she had ever seen a food bank.
But she hit back saying the electorate had to choose between May's "strong and stable" leadership or a "coalition of chaos" led by Corbyn and formed with the other parties at the debate.