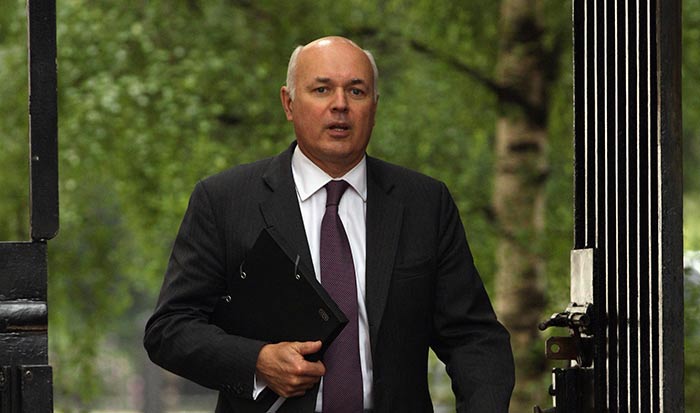 Duncan Smith announced he was quitting the Cabinet on Friday evening in protest at planned cuts to Personal Independence Payments, which had been included in last week's Budget. Reforms to the PIP scheme, which provides funds to pay for aids and appliances to help disabled people, was set to be cut by £590m in 2017/18, nearly £1.2bn in 2018/19 and around £1.3bn in 2019/20 and 2020/21.
Following objections, the government has indicated these changes would be reviewed, and it is expected new work and pensions secretary Stephen Crabb will today confirm they will not go ahead.
However, Duncan Smith said he had "rather reluctantly come to believe that the latest changes to benefits to the disabled and the context in which they've been made are a compromise too far".
In his resignation letter to prime minister David Cameron, he said that while the proposed reductions may be defensible in narrow terms, they were not defensible in the way they were placed within a Budget that benefited higher earning taxpayers.
"They should have instead been part of a wider process to engage others in finding the best way to better focus resources on those most in need," he said.
"I am unable to watch passively whilst certain policies are enacted in order to meet the fiscal self imposed restraints that I believe are more and more perceived as distinctly political rather than in the national economic interest."
Duncan Smith called on Cameron to look again at the balance of the cuts "you have insisted upon" to ensure "we are all in this together", in an echo of one of the chancellor's descriptions of his spending plans.
Speaking on the BBC's Andrew Marr Show yesterday, he went further, warning that the government was in "danger of drifting in a direction that divides society rather than unites it, and that, I think, is unfair".
Cameron said he was "puzzled and disappointed" by Duncan Smith's resignation.
"Together we designed the Personal Independence Payment to support the most vulnerable and to give disabled people more independence," he wrote in a letter to the former work and pensions secretary.
"We all agreed that the increased resources being spent on disabled people should be properly managed and focused on those who need it most.
"That is why we collectively agreed – you, No 10 and the Treasury – proposals which you and your department then announced a week ago. Today we agreed not to proceed with the policies in their current form and instead to work together to get these policies right over the coming months."
In a limited reshuffle announced on Saturday, Cameron promoted Crabb from welsh secretary to the Department for Work and Pensions, while minister of state in the Wales Office Alun Cairns was promoted to the Cabinet replace Crabb. Guto Bebb has been named to the new minister of state in the department.